At the heart of the construction industry, two main principles are etched in stone: safety and trust. While hard work and skill are essential factors in success, a commitment to employee protection while investing in necessary training and state-of-the-art equipment gives construction companies the opportunity to earn more than just safety accolades—they can forge something vital, a sense of trust. This enables companies to provide a safe worksite while also delivering consistently superior results for clients. One such company with a focus on safety, integrity, and hard work, is Bothar Construction LLC. Named after the Gaelic word for road, Bothar Construction is a major civil contractor that embodies a metaphorical and literal road forward. It is a company with a dedication to safety that goes beyond the bare minimum of regulations. By adopting a proactive approach that secures the wellbeing of its teams while enhancing its productivity and integrity, Bothar Construction can offer its clients successful delivery of high-quality projects, safely, and on time.
Nestled in Broome County, New York, Binghamton carries a proud legacy of industry and manufacturing. The city, steeped in a rich history that is centered around hard work, forms the perfect backdrop and home to Bothar Construction. The company offers an array of services, including paving repairs, saw cutting, seal joints, joint sealing, bridge joint repair, milling, drainage, grading, excavation prime, and subcontract construction for commercial, municipal, and state agencies. It goes without saying that this would be next to impossible without a highly-skilled staff and Bothar Construction has over 100 years of collective experience on-staff. Unsurprisingly, the company holds a stellar reputation for quality, safety, and family values and while its work reshapes the landscape of its home city, its influence extends far beyond Binghamton's borders across New York state, to Pennsylvania, and North Carolina.
In 1999, Bothar Construction was born as a survival strategy. Rather than attempting to simply make a quick profit, its founders, James E. O'Brien Jr., James E. O'Brien Sr., John L. O'Brien, and John J. O'Brien, aimed to establish a business that would safeguard their family's economic future while providing meaningful employment to their local community. "We were just trying to build something for our family, and it's grown into a place where our family now includes many of our employees," says Jim O'Brien. However, the path to becoming a well-respected civil contracting company was far from smooth. While starting out, Bothar faced fierce competition, steep learning curves, and the nitty-gritty of getting things started. It grappled with recruiting the right people for the job and the hefty cost of the equipment necessary to get jobs done to the highest standard. To add to these significant growing pains, Bothar was rapidly expanding —around 24% every year. This growth, while exciting, piled on financial pressure and left the company stretched thin, and fighting tooth and nail to keep its head above water.
Faced with these challenges, the owners of Bothar Construction turned to the company's most valuable asset, family. Together, the O'Brien's rolled up their sleeves and got to work in building a strong foundation for their growing business and as Jim O'Brien proudly explains, the leadership team has never been far from the jobsite. "All our main people—project managers, superintendents, estimators, field engineers—have all started with a shovel in their hand. That's really important and has led to our success because they all know what it takes to succeed at every level."
"Bothar Construction has over 100 years of collective experience on-staff."
Creating a successful company will always involve challenges. In the construction industry, it is a guarantee. However, the 2009 economic recession presented a unique set of challenges for Bothar Construction. When the economic situation forced it to redefine its operational strategy, it navigated a potentially hazardous landscape extremely successfully. By adopting a flexible approach, it consolidated and diversified its range of services, while remaining focused on providing its clients with quality work and delivering projects on-time. "I believe that we have been able to be sustainable and successful due to our commitment to providing customers a completed project, safely, on time and on budget" says Jim O'Brien. This pivot allowed the company to not just survive the economic crisis but thrive. Bothar Construction's resilience and agility transformed it from a company performing mill and fills, and crack sealing projects, into a full-service firm capable of bridge work, site work, and box culvert construction. As Jim explains, adaptability has proved to be an enduring strength for the company. "It's very important to adapt to changes. When we encountered these situations, we found the need to diversify. This has played a major role in our growth and longevity. We really are growing into an all-inclusive business."
Today, Bothar Construction, built on the foundation of over a hundred years of combined experience, stands as a leader in the construction industry. The company has poured its heart and soul into taking care of its employees—making meaningful investments in top-notch safety measures, comprehensive professional training, and state-of-the-art equipment. These efforts have earned Bothar the kind of reputation that's hard to come by—this is a company that people feel good about, both working for and doing business with.
In Jim's words, "Our employees are the heart and soul of our operation. Ensuring every one of them clocks out safe and sound at the end of the day is a job we all share—from the management to the workers on the ground." In December of 2022, in recognition of its exemplary safety record, Bothar Construction was presented the Safety Excellence Award from Associated General Contractors – New York State. This award, its second national award, represents Bothar's dedication and commitment to a safe work environment for its employees, instilling trust, and confidence among both current and future clients.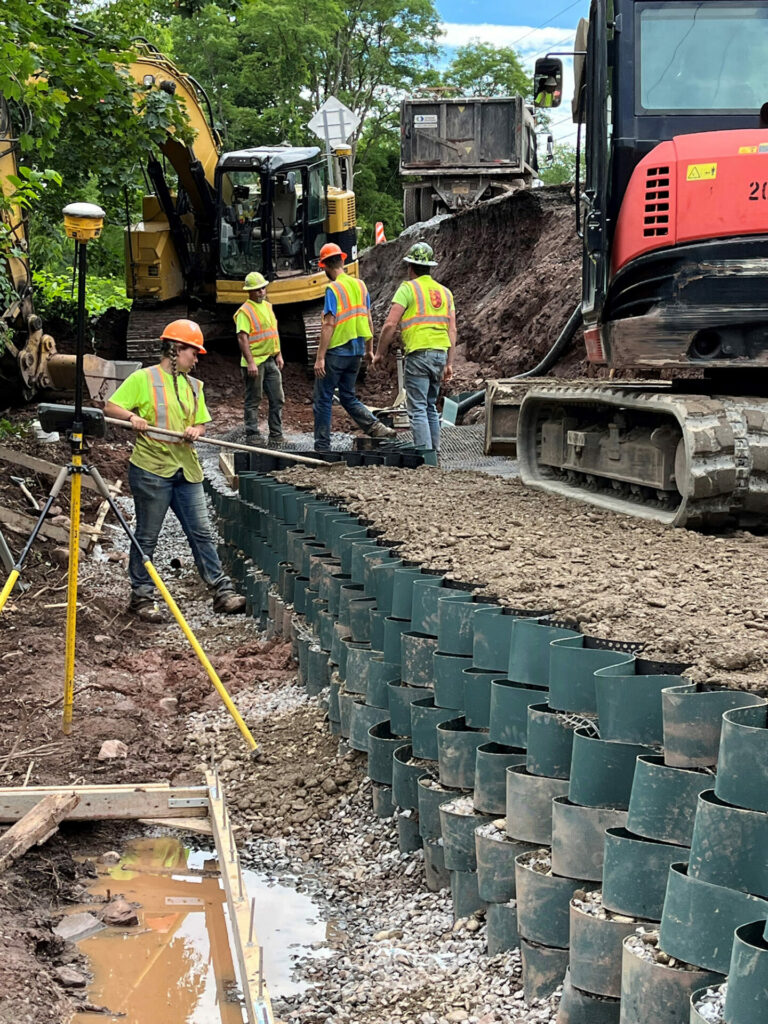 With such impressive accolades, it is only natural that the company can also boast a number of significant projects in its portfolio. This prowess in the construction industry is exemplified by the Route 434 Greenway project, the most extensive project it has ever undertaken. Situated in Binghamton, the project marked a significant milestone in the company's journey. The project involved the construction of a 2.5-mile multi-use bicycle and pedestrian road. This road connects an existing greenway at Pennsylvania Avenue, enabling easy access to downtown Binghamton, the city's South Side neighborhoods, Binghamton University's main campus, and an array of businesses, stores, restaurants, and recreational facilities.
The project's complexity was undeniable. There were tight time constraints and a great risk of substantial monetary penalties for any deviations. About 820 piles had to be drilled and set, a task that required precision and skilled labor. Despite the complexity, the project was completed within the stipulated time, without any safety losses. This particular project holds a special significance for several reasons. Firstly, it represents Bothar's dedication to enhancing the quality of life for local Binghamton residents while it also demonstrates the company's ability to handle large-scale, complex projects with remarkable efficiency. In addition to that, the project's completion represents a literal and metaphorical path forward, signaling a new era of connectivity and economic growth for the city. During the project, Bothar Construction made a point to hire local labor. As Jim explains, this was a considered decision in order to benefit the local economy. "We primarily employed local labor and subcontractors. Nearly 90% of the workforce were locals, which kept the money circulating within Binghamton. This local-centric approach was a crucial aspect of the project. We also commissioned a local manufacturer to create over 9,000 linear feet of bike rail. This ensured that the majority of the project funding remained in our local economy, which we believe is truly important."
Despite an ever-changing landscape and new challenges by way of technological advancements, funding shortages, inflation, and labor crises, the future for Bothar Construction is a promising one. The company has a rich history to dig into while its proven resilience and adaptability hint at continued growth and success. For Jim, challenges are inevitable, and history has proved that the company is one that can endure the toughest of them. "We have faced each challenge head-on and have come out ahead. I have the utmost respect and confidence in our staff's ability to continue to meet these challenges and any future ones that arise." As Bothar Construction strides forward, it does so in the spirit of its namesake. It is a company that is committed to paving a way forward built on safety, trust, and quality.