Griffin Contract Dewatering is composed of a team of experts in construction dewatering and groundwater treatment. Since the 1930's the company has been manufacturing equipment and designing dewatering systems for complex groundwater problems in the construction industry.
While the technical aspect can vary, depending on the specific nature of the job, David Singleton, President, and CEO at Griffin Contract Dewatering LLC, explains that the company performs a simple yet essential task. "We help people solve their water management issues." Typically, this help comes in the form of assisting clients control groundwater in order for them to carry out and perform underground construction.
With such a long and rich history, the company has experience across a number of sectors. To date, Griffin Contract Dewatering LLC has controlled groundwater at 20,000 excavations, which includes over 100 dams, levees, and tunnels. The company has worked on over 60 power and nuclear plants. The team's knowledge of the dewatering industry is second to none which allows it to design the most efficient, cost-effective solutions to control risk and keep clients' projects on schedule.
Founded in 1934 in the Bronx, New York, the company has a well-earned reputation for having great expertise and innovation in developing and implementing the most effective solutions for just about any groundwater challenge. The company has worked all over the country, Singleton says. However, as he explains, the goal always remains the same. "We always try to understand the client's problem [and] what they're trying to accomplish. Following this, our job is to define the minimum viable solution that will help them get whatever it is done that they're trying to do."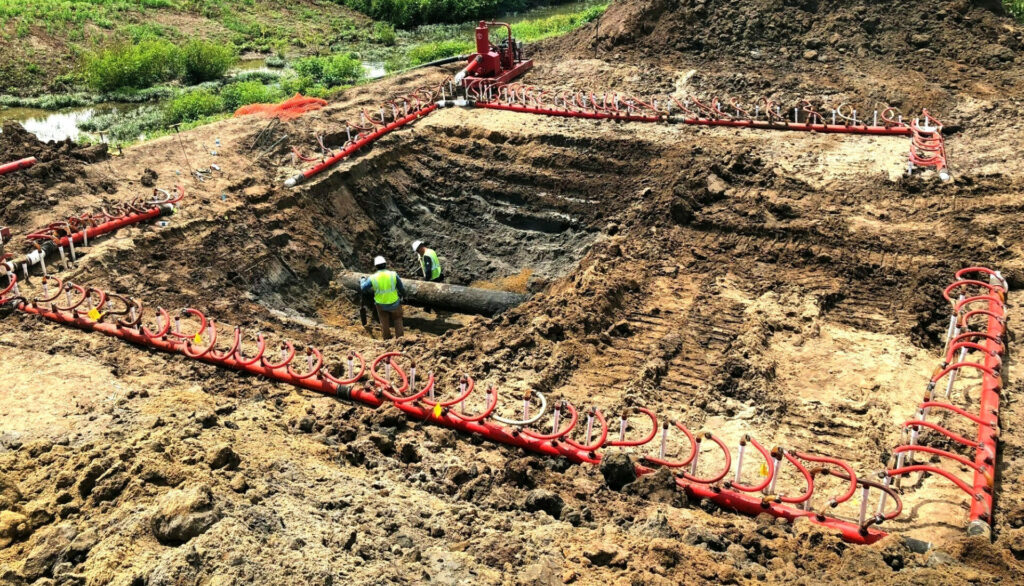 The more knowledge, expertise, equipment and locations, the larger range of options available to both the team and clients – all of which Griffin has, Singleton notes.
Griffin Contract De-watering LLC offer help to clients with pre-construction-related services. With experience and knowledge across numerous sectors and services ranging from site surveillance right through to value engineering, it is no surprise to learn that each project looks different from the last. What truly sets this company apart is that it goes the extra mile. Griffin has experience working through the complicated permit process. This typically relates to discharge permitting, relating to the movement of water which has to be discharged legally. Singleton explains that in many instances permits are required in order to carry this out. In addition to this service, Griffin also installs dewatering systems that can lower the groundwater, treat the discharge, and help clients to move water. This is achieved by utilizing the company's array of pumps, pipes, and other equipment. Singleton explains, "Sometimes it is just moving water from one location to another, and sometimes it's actually lowering groundwater," describing the work as "a myriad of any, and all of that."
"The company has gained such a high level of experience that there is no project it would find impossible."
Griffin Contract Dewatering recently completed a focus project in Lowell, Indiana where dewatering operations were carried out for wastewater treatment plant improvements. As part of this project, the company installed a variety of well-point systems in order to lower the groundwater which supports a client that had been contracted by the City of Lowell to make the required improvements. With an existing wastewater treatment plant that needed some improvements, new structures needed to be installed as well as new piping – all of which was going to take place below the groundwater level. Griffin needed to use its vast knowledge and skill to ensure that the project was a huge success.
Since its foundation in 1934, Griffin Contract Dewatering has expanded geographically across the country, and into Canada. Over this time, Singleton says that the company has gained such a high level of experience that there is no project it would find impossible. "We have worked on every type of project that you can imagine [including] commercial, residential type construction [and] large infrastructure type projects. Also, we can perform any type of construction that requires the movement or the lowering of groundwater." Crucially, Singleton believes that the key to the company's success has been "a focus on our clients' needs and trying to be responsive to their needs, helping them solve problems." He states that a large part of achieving this is due to Griffins' employees. As a company that prides itself on building and sustaining positive relationships, it is clear that this is a vision that permeates every aspect of the company. "I think great people focused on helping clients is pretty important to our success." Singleton goes on to explain how the company boasts a longstanding relationship with many of its employees – some of whom have been at the company for twenty or more years.
With such a storied history, you could be forgiven for assuming that the company is content with what it has achieved. However, having recently completed a large acquisition of pump and integrity assets from Cross Country Infrastructure Services, Inc., Griffin Contract Dewatering has continued plans for growth and expansion. This acquisition, according to Singleton, has further added to the company's geographical footprint with six new locations and an expansion to its equipment fleet. This means that now the team has "lots of additional equipment that we can utilize all across the country." Moving forward, Griffin will continue to look for strategic acquisitions, and at geographies that the team thinks will bring value to their clients. "This company has grown significantly over the last several years, and we expect that that growth will continue."
In terms of the industry outlook as we move into 2023, Singleton believes it is "overall pretty strong." After a turbulent couple of years across all industries, he says, "I think there are end markets that will probably decline a bit," speaking about some of the commercial high-end, high-rise residential mixed-use areas. While he believes that areas such as data center warehouses may slow down a bit, Singleton anticipates "a more robust infrastructure" with bridges, highways, water plants, wastewater plants and flood control-type projects likely seeing an increase. With its strategic growth model coupled with an enviable level of skill and experience, you wouldn't bet against Griffin Contract Dewatering lasting another few decades at least.