The pandemic and the related ongoing delays in the supply chain have made it quite hard for small, young construction companies to operate over the past three years. Success doesn't always happen overnight and, with that in mind, smaller construction contractors might need time to gain a foothold in the market in order to grow and develop their business. However, there are always exceptions and in the case of NPSG Development, age truly doesn't matter. NPSG Development is a growing construction company that celebrated its fifth anniversary in 2022, but despite this, it is far from being the new kid on the block. With its 12 team members coming from a variety of construction sectors, the company has more than 200 years of combined experience under its belt.
NPSG Development was founded in 2017 by its parent company NPSG Global and has since completed complex construction projects in the heavy civil, industrial, and commercial fields nationwide. While new additions to the construction market are nothing new, this company is different. Diversity is what sets NSPG Development apart. It is highly valued and sought after by NPSG President, Bobby Head. "My background has always been diverse when it comes to construction. I started out in Residential Construction and have completed ground up work, to anything as complex as major active operating room remodels. My General Superintendent has completed scopes such as large cold storage facilities to custom interior fit/finish projects," says Head. "We have a diverse background with people that can do everything from out of the ground large industrial warehouses to intricate, full-scale high-end restaurants."
Head joined the company in 2020 as Director of Operations and was then appointed President in April 2022. Son of a residential home builder, he was born with the construction gene in his DNA. After briefly pursuing a career as a pilot, Head eventually fell back into the construction business and worked his way up the ladder. This 22-year-journey granted him extensive experience in managing large-scale industrial, medical, and civil projects. It is this rich and diverse experience that ensure the company can offer its clients a bespoke experience that is unrivaled. For example, alongside its sister company, Advanced Sports Group (ASG), NPSG Development also provides full design and construction services for sports venues. Besides more specialized projects, the NPSG Development team has also built a wide array of facilities such as hotels, co-work office spaces, educational complexes, retail stores, and technology parks, just to mention a few.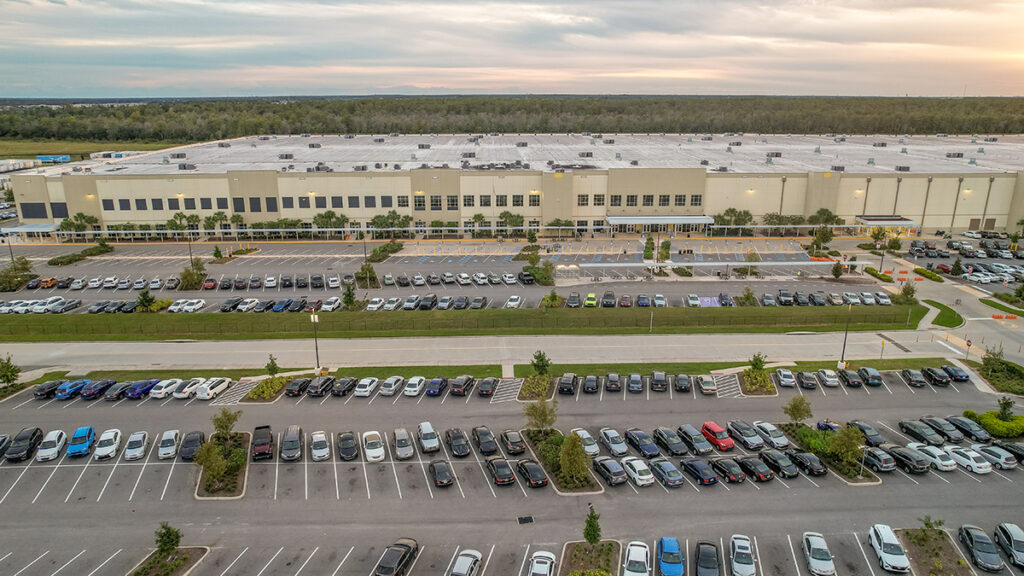 With a portfolio as broad as this, you would think that the company could perhaps suffer. By being a jack of all trades, could it be master of none? The answer, unsurprisingly, is a definitive 'No'. When Head and his team are working on smaller commercial sites and tenant upfits, they apply precisely the same process that is used for the company's more complex projects. This uniformity ensures the highest quality across the board, regardless of the project. Whether the client needs interior work in an existing facility or the construction of a building from scratch, its standardized approach to managing projects allows NPSG Development's team to achieve the highest quality, safety, and customer satisfaction every time. "We can get really small and do tenant interior work, or go really big and do tilt wall, big warehouses. I have people on staff that can handle millions upon millions of dollars of project square footage. We can do it all." Flexibility, work ethics, and quality help the company create lasting partnerships with its customers.
Nonetheless, NPSG Development's team has a predilection for big challenges, those projects that other construction companies wouldn't take on board. For example, the team is exceptionally skilled in performing construction work in active facilities without disrupting clients' operations. Head himself has significant experience working in active hospitals, where infection and contamination control regulations require the highest safety standards.
When asked which projects he enjoys the most, there are no doubts. The thrill for NPSG Development is in creating things of worth, of value, of merit. "My dad was a residential home builder. I enjoy moving dirt, I enjoy creating things, taking a piece of clay, and creating something out of it. So that's the enjoyment I think everybody in this company gets," says Head. "We can take a raw piece of land, help you design the project, (and) build the project."
"The thrill for NPSG Development is in creating things of worth, of value, of merit."
To that end, NPSG Development's team seems to be in sync with Head, considering ground-up construction the most exciting part of their job. Taking an empty site, designing a building from scratch, and working on its development is the maximum expression of their combined expertise. When talking about the team, we talk, once again, about diversity. Head's colleagues come from many different backgrounds but share the same passion for quality work. As a president, Head highly encourages sharing different perspectives and approaches as an enrichment tool. The culture he is trying to build within the company is one of trust, mutual respect, and personal and professional development, where diversity changes old dynamics for the better. By way of example, Head explains how most of the staff have worked with the company since the very beginning and are there to stay. "I really pride myself on the fact that when you're on my team, I want you here for the long haul. I will always take care of you. I tell my people, I will take care of you first, before I take care of me, because if it wasn't for you guys, I'm not successful, I'm not going to win."
Although NPSG Development's focus is on construction work, the services it provides to its customers go far beyond that. Conceptual design, site study, budgeting, permit assistance, and environmental compliance are only a part of what NPSG Development has to offer. Having a certified commercial drone pilot within its staff, the company also avails of the latest drone technology, which allows real-time site inspection and data collection.
Head and his team are licensed to operate in over 30 states and can mobilize nationwide. While its HQ is located just outside Atlanta, NPSG Development can count on a broad network of trusted subcontractors, which allows it to carry out projects in different states concurrently.
The end of the year usually sees a slowdown in warehouse work. Retailers are busy fulfilling orders for the festive season, and any construction work tends to be postponed until the following year. This relatively quiet period gives Head and his team a chance to enjoy much-deserved holidays.
"I have superintendents traveling away from their families. In November and December, they are at home, you know, that's their vacation. However, while family and a healthy work/life balance is of huge importance, NPSG Development remains working on other projects throughout the country. One of its most important commitments is a multi-step project based in Texas. The initial work required restructuring a portion of a parking lot and building a bridge crossing. On the same site, Head's team will replace one of the walls within an active warehouse with a series of dock doors.
Despite the obstacles that a lot of companies nationwide have had to overcome over the last few years, NPSG Development's team seems strongly positioned to face any problems head-on. While 2022 comes to an end, the forecasts in the construction industry expect a 3% growth between 2023 and 2026. As the new year begins, it's not surprising that Head and his team are ready to take on new, bigger, and more complex challenges. With a wealth of expertise, experience and a passion for delivering top quality to its clients, it's clear that this is a company to take note of.