The construction industry, with its varied mix of specialties and sectors, share one thing in common. From cities and their high-rise super structures to homes and infrastructure, every aspect of the industry is built on a foundation. Starting out by supporting road builders and contractors, Powell Foundations is now a cornerstone of the Ontario construction industry with over 60 years of experience in delivering results on MTO, Metrolinx, and private projects.
Getting to the top of such a vital sector has taken time, skill, and dedication. Initially, the main goal was on supporting the road builders, traffic sectors pair with each their engineering motives closely followed a research and development sector. Shortly after their energy drifted into the public sector and heavy civil infrastructure…then followed the industrial, commercial, and institutional sectors, also known as ICI. These early years allowed Powell Foundations to gain experience and develop its reputation by working on school, institutions, and hospital type projects. Of course, things have changed significantly since these early experiences and the company now offers foundation support to various contractors across the industry. Powell Foundations now delivers services such as design build protection systems, shoring, caissons, sheets piles, driven piles, vibratory hammer work, engineering services for structural and geo-structural, as well as noise walls and retaining walls in both temporary and permanent applications. Clearly, those formative years have been the platform for huge success.
With a company that specializes in support and foundation work, it is no surprise that those at Powell Foundations are keenly aware of the role that place and heritage play in its work. The company is deeply aware of the nation's history, in particular that the territory it operates in was the subject of the "Dish with One Spoon Wampum Belt Covenant," an agreement between the Iroquois Confederacy, the Ojibwe, and allied nations to peaceably share and care for the resources around the Great Lakes. With this in mind, Powell Foundations is committed to always working with both integrity and excellence.
Though the company now enjoys a reputation for quality, this is something that has had to be earned. Starting out in business will always bring challenges and for Powell Foundations, this was no different. One of the earliest, and something that ultimately led to a key strength at the company, was having to navigate a fast-paced and challenging industry while still growing its staff. The need to work effectively as a team led to learning opportunities for everyone involved and led to a greater understanding of developing trust, communication, and a collaborative working environment. For those at Powell Foundations, these experiences led to the active pursuit of staff that would excel in these areas. The goal was clear; we prioritize the group over the individual. "When collaboration is strong, team members pool their resources and knowledge to prioritize shared goals: meeting the timeline and budget of the entire process rather than their own individual goals. This is why our team has been hired for reasons beyond core skills, they are truly free thinkers and problem-solvers."
"This is why our team has been hired for reasons beyond core skills, they are truly free thinkers and problem-solvers."
This dedication to a diverse and highly skilled team can be seen in the way it approaches its deep excavation and shoring work. According to Neal Haughton, President of Powell Foundations, these skills are an intrinsic aspect of the services the company provides. "These techniques are used to facilitate any type of change or expansion for new items pertaining to buildings, traffic shifts, sign footings, light poles and lane widenings, new bridges and diversions and heavy civil infrastructure such as new access shafts for below grade infrastructure and subway/train construction." While Haughton considers the quality of how the shorings are installed to be, probably, the most difficult aspect of the process to achieve, it is here that Powell Foundations, and its focus on collaboration and teamwork, truly excels. The company has developed an internal organizational structure that highlights the strengths of individuals within every team setting. This allows it to match the individual to the task required, pivoting and adapting to any challenge a project may face. Additionally, with the smallest equipment in the market, Powell Foundations is further enabled to adjust as the circumstances demand.
While teamwork is a significant aspect of everything that Powell Foundations does, its highest priority is the safety of everyone connected to a project. The construction industry is known to be dangerous. Workplace accidents are, sadly, not uncommon and much is being done across the industry to raise awareness, educate and prioritize the safety of construction workers. At Powell Foundations, it is the number one commitment. With daily safety meetings taking place on every jobsite, the company ensures that its staff are briefed on every eventuality. In addition to this, safety training, guidance and programs are also provided. For Haughton, safety is a facet of work that drives the quality of everything else along with it. "A safety culture must be bought in and managed at all levels within our company, it is the responsibility of each of each us to support the program. We continue to set goals for a completely supportive safety structure program as a group – we strongly believe that a strong safety platform creates a comfortable work environment with will lead to better quality more efficient working environment. Working safely is a forever relationship."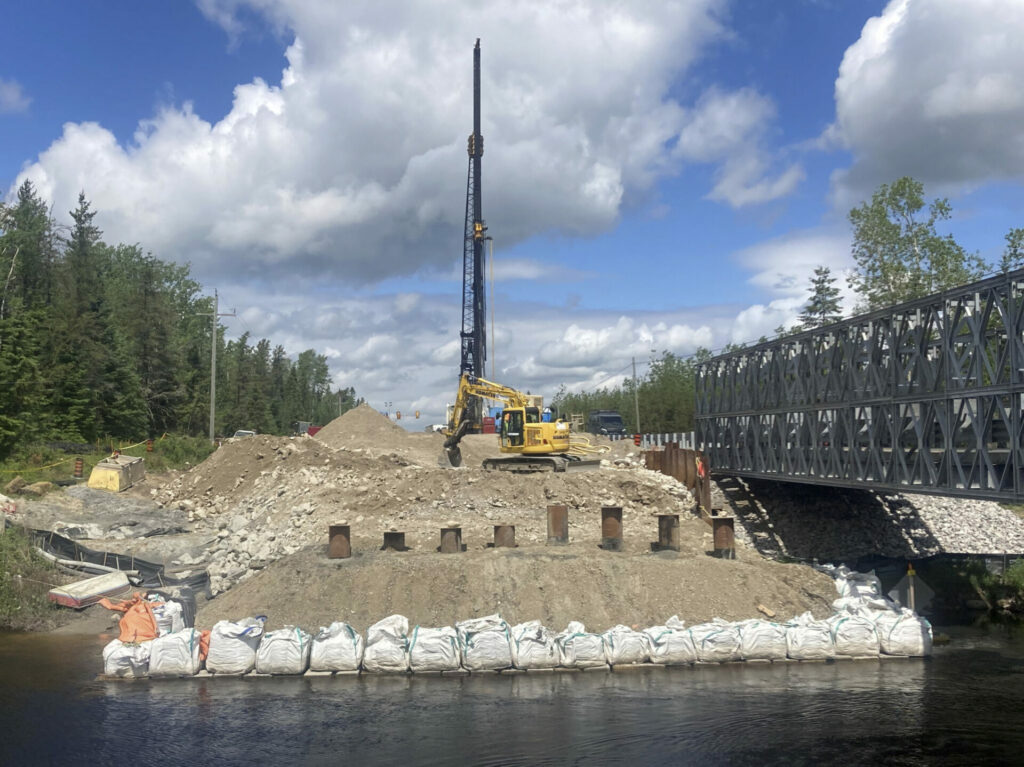 With an impressive portfolio of successful projects and ongoing working relationships to its name, it is not easy to identify one project that epitomizes the quality at which Powell Foundations operates. However, when pressed, Haughton points to the recent track expansion at the Metrolinx Lakeshore Rail Track Expansion and Electrification site. In an example of the range of services Powell Foundations can provide, the project involved designing and performing work on rail systems, while widening the area to allow for more tracks. Powell Foundations was able to offer its wealth of knowledge and expertise throughout the process, from the design through to the railway protection shoring. An enormous project with numerous elements and considerations, the company needed to showcase its array of experience in the areas of ground improvement, slope stabilization, structural foundations to ensure the project was a success.
Unsurprisingly for a company that is so committed and aware of the land it operates on, a significant consideration on the Lakeshore project was the effect it had on the local environment. Working in built-up areas adds the significant challenge of ensuring the quality of life for locals and businesses are not unduly disturbed. For Haughton, these types of projects are a challenge that can be overcome. Powell Foundations can rely on its technical expertise and wide product range to ensure that the local population is protected. "The company is particularly committed to the well-being of the population living near the area. Thus, noise walls are placed around the project during the process, providing acoustic protection that goes between houses and train tracks, so it can be as nice as possible for everyone."
Powell Foundations is a company that has demonstrated a commitment to safety, innovation, quality and skill-set development. Incredibly, with over half a century under its belt, it is still growing. With plans for significant growth in the future, the company, and Haughton in particular, remains conscious of the importance that safety plays. As the projects get larger, so too do the safety considerations. With safety at its heart, the priority at Powell Foundations is to ensure that success and wellbeing are never too far away from each other. "Our technology is always keeping up with the demands of work. However, it is vital that we explore all avenues as the technology and industry transforms with rapid growth to make sure our workforce is safe."