Moran Iron Works (MIW) is a HUBZone-certified Small Business Concern that was founded in 1978 by Thomas Moran. Now celebrating its 45th year in business, MIW plans to continue diversifying its portfolio across various industries including Power, Marine, Industrial and Hydro.
MIW is dynamic fabrication facility that provides a full range of custom design, engineering, fabrication, installation, service, repair, and modification services. While projects at MIW can be extremely varied, the company excels at heavy plate fabrication & modularized components that are barge shipped. While large modules may be in MIW's wheelhouse, the company also completes significant D1.5 fracture critical work (bridge work) that also falls into the category of Hydraulic Dam Gates. In a nutshell, MIW builds components for general industry & critical infrastructure, whether that be power generating, hydro support, or electrical. In addition to this, the majority of the services offered by MIW involve various types of welding which is the primary component of daily business.
Vice President of MIW, Victor Ruppert, has worked on numerous projects throughout his time at the company, and he was happy to give more of an insight into some of the work he undertakes. For Ruppert, the work he does is both challenging and interesting. "Large projects that involve barge shipping are probably my favorite. The guys like them and they're fun and interesting. We also fabricate marine vessels which adds an additional intriguing element to our business. Marine vessels are turnkey, so we complete a vessel and then launch the vessel at our port facility in Rogers City, MI. Most of our vessels have been used by different companies around the Great Lakes and it's a lot like the D1.5 work." He goes on to explain that the company is experiencing significant success while working on a variety of projects. "A lot of our work has been in the steel industry recently. We've done a handful of stove domes for steel factories. We just completed a recent ductwork job too. If you look at the jobs completed so far this year through the end of July, we've completed about two dozen. These jobs range between 50,000 and 2 million dollars, so there's a mix of different sized jobs sprinkled in there. And of course, that's just completed. We've about a dozen in progress right now."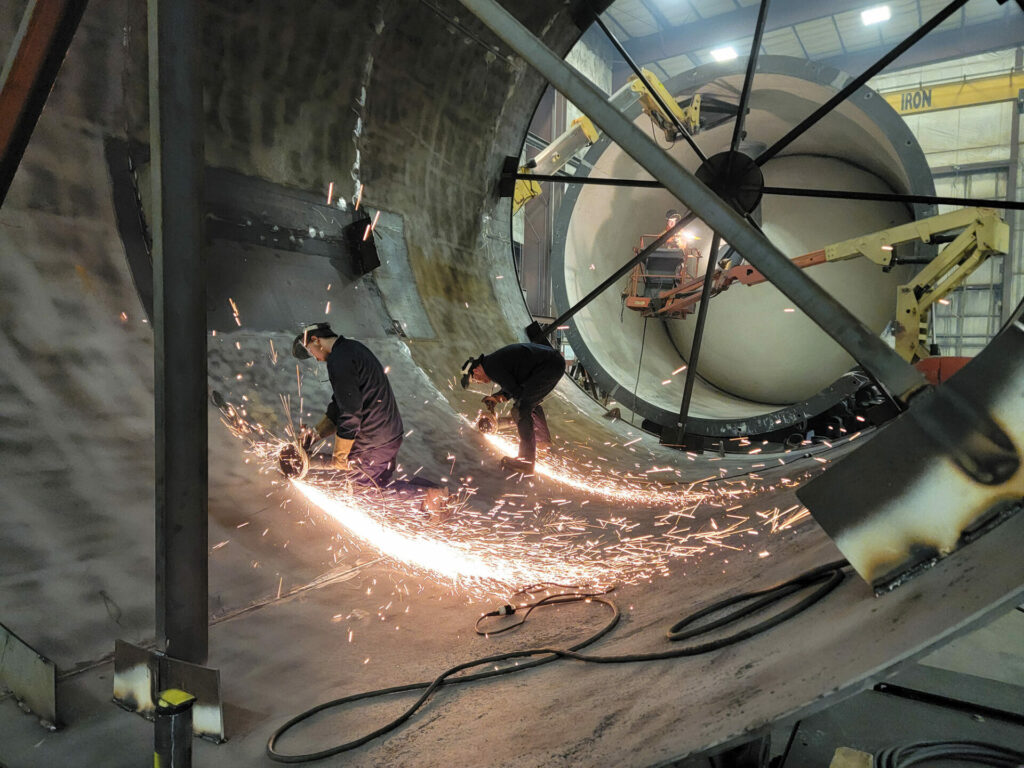 Recently, MIW was awarded a contract to build eighteen radial gates for the American Bridge Company based in Pennsylvania. The radial gate project will take place over the next 4 years and will require MIW to deliver large modular sections of the gates to sites owned & operated by the U.S. Army Corps of Engineers in Tennessee & Kentucky. The project is a huge stepping point for MIW and utilizes almost all points of their capabilities. The gates are 50 feet wide and 37 feet tall. They are connected to arms that will cantilever off the skin plate 33 feet. As you can imagine these are complex & heavy. Working on large scale projects such as the above requires huge responsibility, especially in the area of safety. MIW is committed to ensuring that all employees go home at the end of their shift and enjoy time with their family. However, MIW is not the only party invested in safety.
"After 45 years in business, the company has experienced significant growth and success."
Understandably, the clients who award each contract have a particular interest in the safety of all employees onsite, and how safety is managed by MIW. It is not uncommon for potential clients to enquire about accident rates or recordables. In the modern construction world, companies want to work with partners that are serious about supporting employees. "You're lifting 10s of 1000s of pounds, you're rolling it around and you've got multiple guys working on things. So, safety is of the utmost importance, and I would bet 99% of any employers' you talk to will say that. It really boils down to everyone wanting their employees to make it home." Along with this safety-focused approach, MIW is also a drug-free, Equal Opportunity Employer (EOE) committed to providing equal opportunity for the participation of all qualified persons in all job classifications. At MIW, people are valued as individuals – not as workers or staff. The company creates goals and plans for professional and personal growth, recognizing that not everyone is the same and that there is a greatness to be found in these differences. As part of the company's core values, employees are encouraged to have a positive attitude, competence, personal ethics, and be team players.
Outside of this positive employment culture, the company has a massive input within its local community. To this end, MIW accepts funding requests from organizations located in the Emmet, Cheboygan, and Presque Isle County community areas for programs that address community needs. The company also sponsors several projects throughout the community including Cheboygan High School Bowling Team, The Onaway Goodfellows Toys for Kids Christmas, MI Career Quest, and Chelsea's Closet. For Ruppert, these ventures have significant value, both to the local community and to its staff. "We like to donate locally and to organizations that help people, help students, help kids groups, and different things like that. There's already a handful of donations this year. Some philanthropy is for youth programs and others spotlight community concerns such as suicide prevention. On top of that, we have a handful of employees that spend time helping the community. If they volunteer, we'll actually match them and give them extra vacation. Supporting the community is a big deal as there's not a lot of large businesses up here."
Founder of MIW, Tom Moran, also gives back to the community himself. Moran shares his creative passion by making ornamental sculptures and teaching ornamental welding. These metal creations are shared in an equitable way with most of his sculptures being donated to non-profit organizations and educational facilities for fundraising opportunities or public display.
After 45 years in business, the company has experienced significant growth and success. This is down to a commitment to reliable and innovative work. Unsurprisingly, MIW has no intention of taking its foot off the gas, either. Currently, much of the work the company is completing is infrastructure-based work for the government. However, while MIW plans to keep this type of work as a majority standing in its portfolio, it also wants to continue expanding its creative outlets and embrace its diversity. Projects within the marine sector give MIW the opportunity to diversify out of its infrastructure and heavy industrial work. These emerging sectors will allow MIW to continue its history of strategic growth and undertake a broad new spectrum of projects.
From design to delivery and everything in between, Moran Iron Works is a full-service fabricator that cares deeply about its employees, community, and clients. The relationships and values that have been built and maintained over nearly half a century are vitally important to everyone at the company and Ruppert sees the importance of continually managing these relationships. For him, and all at Moran Iron Works, reputation and trust are key to the success it has achieved. Not only that, but these values will set it in good stead to complete another 45 years as a leading player in the market. "Our culture is based on our core values and at the end of the day, we have a culture that is supportive. We have got personal ethics which focus on community, family, and being compassionate; but overall, our employees are a direct representation of us as a company, and we're a direct representation of our clients."