According to company President Eric Sommer, Spring Valley Corp (SVC) turns owners, architects, and designers "ideas into reality". The relationship between company and client is simple and straight forward with Sommer explaining that clients come to the company with a concept of what they want to do, with the "expectation that we'll be able to help them." An idea, however, is only as good as the plan behind it so, in order to create this reality, SVC sets about using its wide knowledge base and multiple skill sets such as geometric work, energy efficiency reviews and budgetary requirements. The end result is a solution that has been weaved with all of this information in mind. SVC does all the "shop drawings, the engineering, mock-ups, and we can also provide installation services" according to Sommer.
SVC offers a "comprehensive" range of services and products, designed, and engineered for complete building envelopes. The company can work with a client to achieve the best outcomes, regardless of price points and budgets. Its products are suited to all budget ranges, right up to those products where buildings are used as "architectural expression." According to Sommer, long term investment in these projects is crucial and it therefore makes sense for clients to invest in a cladding system "that will be there for a long period of time and will perform for many years."
The primary focus and passion of Eric Sommer and Spring Valley Corp is in the manufacturing of Ultra High Performance Concrete. Their signature product "CAAST" stands for Concrete Art and Applied Science Technology. This is where the skill and innovation within the company really comes into play. For Sommer, this is a truly special product. "This is not just regular concrete, it's beautiful concrete – it's concrete art." On the Applied Science side, Sommer explains that while CAAST concrete "is a piece of art, it's fully engineered, and it is science in the form of particle density theory and chemistry combined to formulate concrete that can do the job that we need it to do." Sommer goes on to explain that the technology is the "whole package" and that, with CAAST, "we can achieve budget and we can achieve high-end geometry as well." The reason for this is that SVC can, by "using a specialized method of forming concrete," make very thin concrete that has enhanced strength and durability over traditional precast.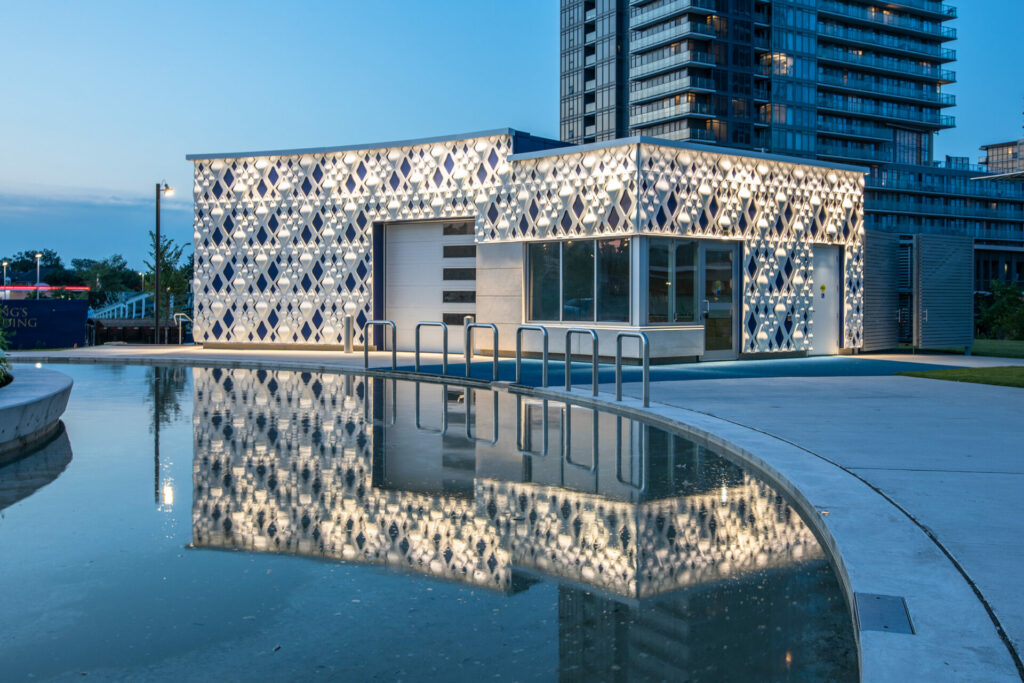 Spring Valley manufactures both Ultra-High-Performance Concrete and High-Performance Concrete – mostly defined by their comprehensive strength, and to be used depending on the project at hand. HPC is between 90 and 120 MPA and UHPC is 120 MPA and over. Sommer explains that HPC is appropriate for the majority of projects however, in situations where a project demands, UHPC can be made. There are multiple factors which influence which concrete is used, such as its flexural strength and its water resistance and, for those at SVC, all factors must be considered. UHPC is made using nano-technology – regular concrete uses aggregates that are ¾ of an inch down to a millimeter or .1 of a millimeter, whereas nanotechnology uses 2 millimeters down to .1 of a nanometer – very tiny particles that achieve high strength and high resistance to water absorption. This innovation has numerous benefits on a project, one of which being the overall weight management. As a result of the product's high strength, SVC can produce thin concrete profiles which reduce the weight of a cladding system. The benefits to a project are truly staggering as, instead of having between 6 – 8 inches of concrete on building cladding, it can now go down to below an inch.
"SVC offers a 'comprehensive' range of services and products, designed, and engineered for complete building envelopes."
SVC's ability to make thin concrete profiles is also important when it comes to environmental issues and sustainability. Sommer explains how concrete has received "a bit of a bad rap" due to the carbon footprint created by the manufacturers of Portland cement coupled with auxiliary issues such as mining and transport. According to Sommer, there is a simple way to reduce the carbon footprint of concrete; use less of it. "If we can make a building using concrete, but we can do this by using much less of it and formulating it in such a way that it has more durability, then we've kind of hit it on multiple fronts." Simply put, reducing consumption, and improving the longevity of the product increases the sustainability of the whole industry. Next to water, concrete is the most consumed product by humans on this planet. "I believe the most effective way to reduce the carbon footprint of concrete is to use less of it… concrete is going to be with us for a long period of time until somebody finds something that will replace that – let's find better ways to use concrete so that it can be a more sustainable product. Every product that you use in a construction project has to be used to its own best-optimized use… as we gain knowledge of how each one of these affects the environment, and how each one can contribute durability to a project, we can optimize the use of all of these products to be more sustainable."
The company recently completed work on Hotel X, a luxury hotel on the grounds of Toronto's Exhibition Place with exposed archaeological ruins below it. This project, according to Sommer, was a "perfect application for UHPC." The design required that the concrete panels be structural while also perforated, as the designer wanted to achieve a high level of detail on the surface of the panels to communicate the message behind the structure. This meant that SVC had to create molds with very fine details in them, and the mix had to fill these with minimal amounts of air bubbles. Sommer explained that a double-sided pattern is "difficult to achieve in any medium but probably most achievable with UHPC." The strength of the concrete made the attachment system "very simple", according to Sommer, with each panel being held up by quarter-inch structural screws. In addition to this, UHPC was also very important for Hotel X due to the project's exposure to the elements. Sommer explains that, due to the volatile nature of the surroundings, the benefits of UHPC were really front and center. "The freeze-thaw action of the elements has a huge effect on anything they would've used, so UHPC will have high durability in that application."
So, what is next for those at Spring Valley Corp? It seems as though the benefits of collaboration and an innovative take on one of the oldest building materials on the planet will ensure the company goes from strength to strength. A new project, in collaboration with Malcolm Hachborn of CPCI, has led to the development of an insulated wall system called Dreamwall which uses UHPC on both the inside and outside. Both Sommer and Patti Overgaard, the owners of SVC, are very excited about the future of SVC and CAAST Concrete. Sommer says of the venture, "without the support of other industry partners it wouldn't be possible to do what we're doing." With doubling sales and a new facility being opened in 2023, the outlook for SVC is a bright one with Overgaard going on to explain that the company is a "forerunner in the thin concrete world and architects are now taking notice. We believe we have a really bright future."