Growth can be often confused with success, but how does becoming larger prove you are becoming more successful? Well, the truth is, it doesn't. Becoming successful does not require a company to become bigger. The old phrase "quality over quantity" is a perfect example of this concept and it's also the way of life for the people at Twin Valley Precast. Because at this company it's not about growing bigger, it's all about growing better.
Twin Valley Precast is a leading manufacturer of precast products based in Wainright, Alberta. The company has undertaken numerous successful projects and offers a range of products and services which showcase the versatility of precast concrete. Twin Valley Precast's range of products include beams, columns, solid slabs, architectural precast concrete, jersey barriers and much more. The company and its workers showcase the technical brilliance of precast concrete by highlighting the functionality of a multipurpose material. The results of the company's projects speak for themselves through the skill of their work, and it is clear to see that the people at Twin Valley Precast have mastered the product on which the business was found.

Manager at Twin Valley Precast, Joe Tschetter, stated that quality takes precedence at Twin Valley Precast. Tschetter focuses a lot of attention on meeting — if not exceeding — client expectations and continuously receives great feedback from clients which he appreciates. In fact, while speaking with Tschetter, he came across an email from a contractor in which they referred to a Twin Valley Precast site in Lloydminster, Alberta, Canada. It read: "I was over at the site on Saturday, and this is the cleanest and most accurate concrete building I have seen in 25 years. I am used to dimensions having plus and minus two inches when compared to the drawings. This structure is within millimeters. This will be a real showpiece when it is completed."
Tschetter's approach to growing better rather than growing bigger has led to great success for Twin Valley Precast. The company currently have enough work assigned to take them through into March 2023, with other jobs also continuously being added. The reasoning behind their 'growing better' philosophy can be attributed to a number of different factors, but overall, it was due to workforce development issues.
Wainright, Alberta — the location of Twin Valley Precast's company — is currently facing extreme labor shortages. With this in mind, the people at Twin Valley Precast held a meeting to discuss how to tackle this issue. The company decided that going forward it wanted to design its buildings in a way that reduced labor, while not sacrificing any of the quality it has become known for, which led the company to a number of different options.
Twin Valley Precast introduced a gantry system to carry out the finishing section of its projects. The system is an automated finishing machine, designed to level screed, place embeds in the fresh concrete, finish the surface by power trowel and finally spray on a curing compound that massively reduces manual labor. A person has to be present, but they can either sit on the machine and have a bird's eye view from the top down, or they can stand beside the gantry and walk. They can also step up onto the gantry with a remote that controls the whole system, minimizing manual labor and increasing productivity.
"Twin Valley Precast introduced a gantry system to carry out the finishing section of its projects."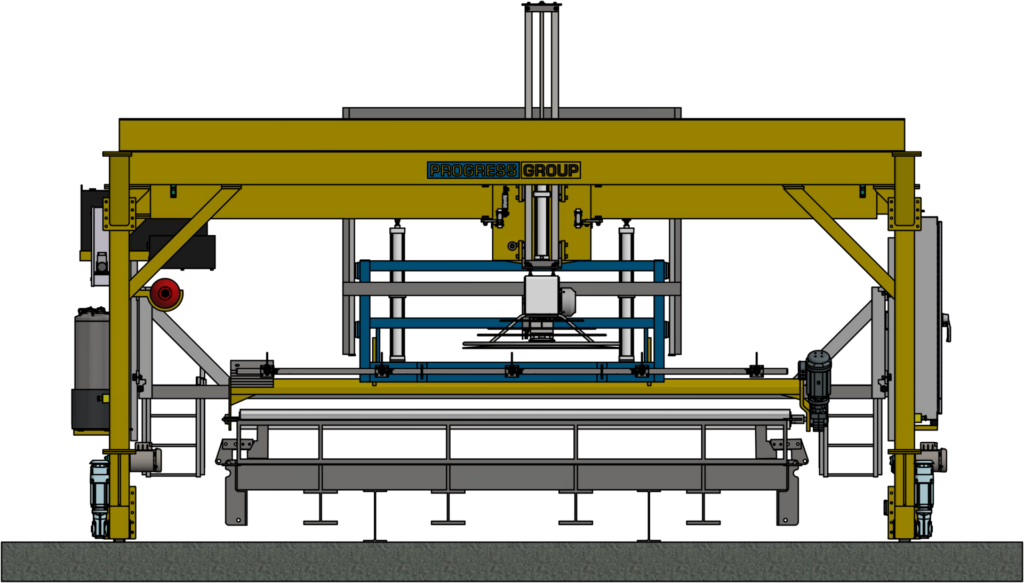 The company work a variety of different jobs that can require a lot of labor. Therefore, it is best to pick what jobs it takes wisely. The jobs vary along with the services required, which could include 3d view architecture and engineered structural drawings, project management or a complete building package.
"There's a couple of projects that are 37 feet high and 600 feet long. These are the projects that we're most interested in because it takes a long time to recover on the bigger projects. We still do smaller jobs, but we tend to squeeze them in between bigger jobs.
A giant milestone for Twin Valley Precast was when the company became certified. Canada's two largest precast concrete associations, CPCI and Canadian Concrete Pipe and Precast Association (CCPPA) decided to establish a separate third-party body with strict standards, to certify prestressed and non-prestressed precast concrete manufacturing facilities across Canada.
Canadian Precast Concrete Quality Assurance (CPCQA) is the only program in North America that precast manufacturers must meet requirements of CSA A23.4, including Appendices A and B, together with United States PCI MNL-116, 117 and CPCQA certification requirements. In 2018, Twin Valley Precast received their certificate and it changed the company going forward. "It made us more profitable in a way that we can win now. We didn't even foresee that this is how it was going to be, and the reasoning is, we now have more confidence in what we're doing. This is where CPCQA came in. As of now, we've come to establish a marking point of 83.5 and this was remarkable to me because it takes a team effort to do this. For example, 85% would be your maximum that they would rate you and an 83.5 is very close. So, this has been a big accomplishment for us."
Outside of meeting regulatory requirements and trying to maintain a high standard of work, Twin Valley Precast are also becoming more involved in sustainable building projects. The company built a website with CPCI members that is currently filled with resources relating to energy efficiency.
Lafarge is Canada's largest provider of sustainable construction materials and are on a mission to provide construction solutions that build better cities and communities. Lafarge creates custom cement products for suppliers and Twin Valley Precast decided to get involved in the hopes of becoming more sustainable. Lafarge has created a custom green product for Twin Valley Precast called PLC (Portland Limestone Cement).
What makes it sustainable and environment friendly is the machine that is used to grind the concrete down to fine powder uses a much lower temperature, thus making a more efficient product with less fuel to recover from.
Another great sustainable product that Twin Valley Precast is slowly introducing is Glass Fiber Reinforced Rebar (GFRP). GFRP can replace steel rebars in concrete structures. The use can be temporary – or permanent where there is a requirement for high strength, risk of corrosion or to avoid or to avoid induction of currents from electromagnetic fields. The product offers environment friendly solutions and also provides significant reduction of repair and maintenance cost.
All of the clever decisions made by Twin Valley Precast — along with its forward and creative thinking ability — has allowed the company the freedom to make decisions on its own accord. However, if Twin Valley Precast continue at the pace it is currently at, it will certainly be hard to imagine the company not growing better. In the end, Tschetter says, "We rely on God for guidance, and through His grace, we have been blessed with a team that is committed, hardworking and dedicated for the ultimate success of Twin Valley Precast."