At IECS, custom requests are not only celebrated, they are encouraged. 'Problem' is a word that the majority of businesses do not want to hear. In fact, it is a word that most people do not want to hear. However, to the people at IECS Group Inc, a problem is not an inconvenience, it is an opportunity. Without problems, IECS would be unable to do what they do best; create solutions. IECS Group Inc. has been manufacturing and selling precast products since 1984, becoming one of the leading international companies for solving soil erosion and precast problems. Although they are well established within the industry —having completed numerous projects — their passion lies in a space beyond their skill and craftsmanship, a space that is truly unique.
Excluding Cable Concrete, absolutely everything built at IECS is specific to a singular project, which in turn makes every project a custom build. In the world of precast, this type of creative problem solving has led to IECS slowly developing a reputation for dealing with structures that may be considered outside the box. Vice President of IECS Group Inc, Greg Arvai, is more than willing to take on these new projects and, frankly, enjoys the challenge of creating solutions to problems.
"We don't have a factory manufacturing mindset. We enjoy problem solving and providing the industry with something that is needed. One thing we say in a joking manner is that we don't say 'no' enough. It's in our nature to want to help and figure it out, that brings us joy and purpose. The reason we go to work every day is to provide people with solutions when they contact us. We like to say YES!"
While the company initially started out specializing in articulated concrete mattresses, IECS has developed into so much more. A big transition for IECS was at the stage they began precasting other cast in place specs. IECS approached contractors offering a precast solution contingent on approval from the Project Engineer, meaning IECS would be at a loss if the precast alternative was not approved.
This business model eliminated the risk for contractors by assigning the power to the outsourcer. However, the confidence IECS had in designing and engineering structures also allowed IECS to take this risk and place themselves among other leading contenders within the industry. These collaborations are what inspires Arvai to work with other companies, which is something he hopes to do more of in the future.
"It takes multiple companies at the top of the food chain to put their heads together to make these jobs go forward. So, you're never going to build a bridge of any kind — especially the challenging ones — without a collaboration of the best in class. I hope that's what's next for us, to continue to provide that service to our industry by teaming up with the leading companies in the industry."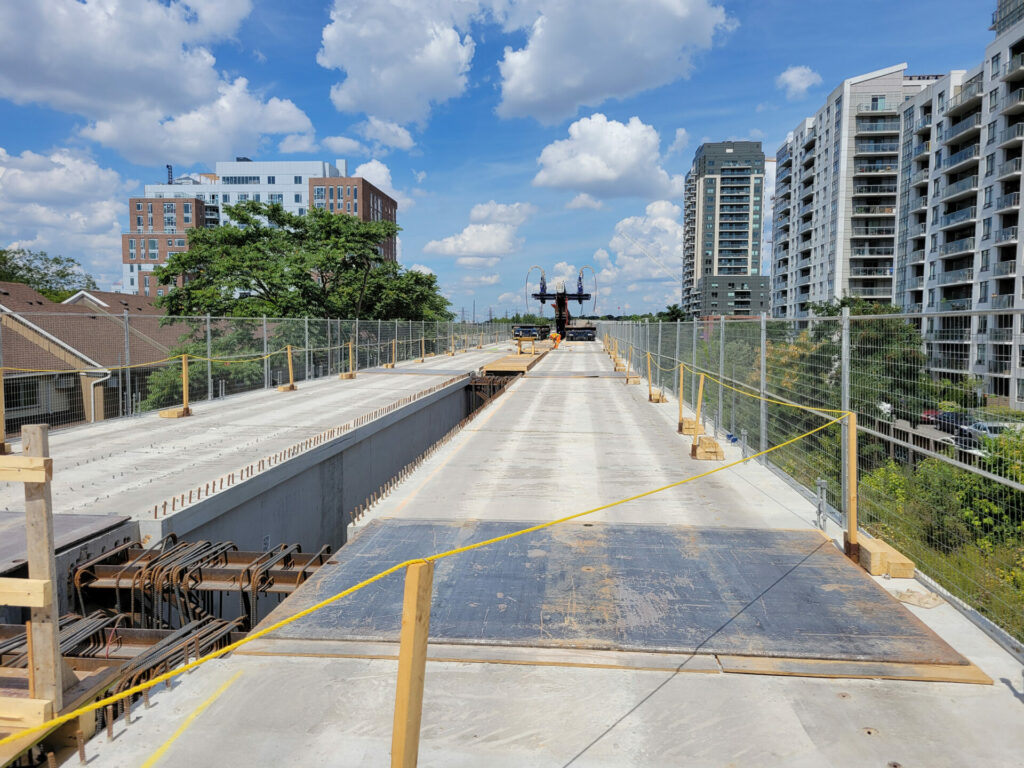 IECS has a proven track record of projects and was actually featured in Apeiron Construction last year. At the time, we discussed some of the jobs that IECS were working on. One of the jobs mentioned was the Davenport Diamond Grade Separation Project, owned by Metrolinx. At our last interaction with IECS, this project was only in its infancy. Now, this vast project consisting of 170 segments has been successfully complete.
Another unique MTO project IECS is currently working on is a vehicular modular bridge in White River, Northern Ontario. IECS are building the modular bridge footings for a temporary bypass bridge, along with the new permanent bridge. While this project is also close to completion, some of the work carried out by IECS included: the bridge abutments, the pier caps, the bridge deck slabs, sleeper slabs, approach slabs and also the precast curb and gutter. Essentially, everything on the bridge is prefabricated at IECS and shipped to Northern Ontario to be assembled on site.
Although IECS have been busy completing projects, the company also have some new endeavors. IECS are currently building a precast dock wall for an emerging neighborhood in Toronto, known as East Bayfront. This project is part of a mission to revitalize the Toronto Portlands and develop the associating neighborhoods. And while Canada will always be home for IECS, there are other locations setup for future business that stretch further than Ontario.
IECS are working on projects outside of their home country, with boots on the ground in places such as South America, Africa, and Mexico. The company currently have sales teams in the listed locations above with the primary focus of showcasing IECS' cable concrete product.
"Out of province and internationally we hope to grow our Cable Concrete sales and be first to mind for concrete mattress applications. We have the ability to service anywhere in the world. Any island, any country, any continent. We can provide a product and support, and we are willing to travel. If there's a need for concrete mattresses for erosion control or other applications overseas, then we can offer project solutions overseas."
"Out of province and internationally we hope to grow our Cable Concrete sales and be first to mind for concrete mattress applications."
If it seems like the people at IECS are constantly busy, that is because they are. But this does not mean that there is no fun to be had. The culture and vibe at the IECS facility promotes a fun and engaging workplace. Greg assured me that the lively fun-loving culture within IECS is a top priory when continuing to grow the company. So much so, that culture is listed within their values.
Speaking of which, IECS have recently issued a new company vision and a set of values as part of their corporate goals and objectives. Having a set vision allows companies to stay on track and creates a goal of sorts that allow it to measure its successes. The mission for IECS Group Inc. is to provide innovative precast infrastructure solutions that save time, and be first to mind for concrete mattress and precast challenges. While it seems like this mission is certainly within reach for IECS, it is the values created by the company that reflect IECS best.
Optimism — a core belief that IECS can solve any problem.
Family — deep roots, family, culture, and integrity.
Transparency — to operate in a clear and straightforward manner.
Quality — strive for excellence in everything they do.
While all these values are truly representative of IECS, it is this constant desire for excellence that seems integral to their success. Without this, IECS would not be on its current trajectory. Having these values instilled within the foundations of IECS and its employees provides a reminder of what IECS Group Inc. stands for. Not only are they destined to have a bright future, but also a unique one at that.