Proform is a company with many capabilities, demonstrated by their two divisions: Proform Concrete Services and Proform Construction Products. Proform Concrete Services is a concrete contractor that provides solutions for curbs and gutters, sidewalks, slip-form barriers, foundations and slabs, decorative concrete and a recently added residential concrete division. This is just some of the services from this division, which has an even more extensive complete services list. Proform Construction Products is a precast manufacturer that offers general, commercial, underground, and residential precast. Both divisions combine to offer a fully equipped suite of services to their clients.
Proform's ability to offer both services and products to their clients allows them to provide what Marketing Coordinator, Alicia Demchuk, calls their "one-stop shop" for certain projects that require both the contracting and precast elements. For Proform, it's an opportunity to help their clients every step of the way, which solidifies the relationship between company and client. Proform's idea of a full package is encapsulated by their position in Alberta, where Proform Construction Products has two precast manufacturing plants that are CPCQA certified and offer full in-house engineering. Proform's goal is for their clients to be able to come to the company from the beginning and be with Proform through until the end of a project, whether it's for design, delivery, installation, or all of the above.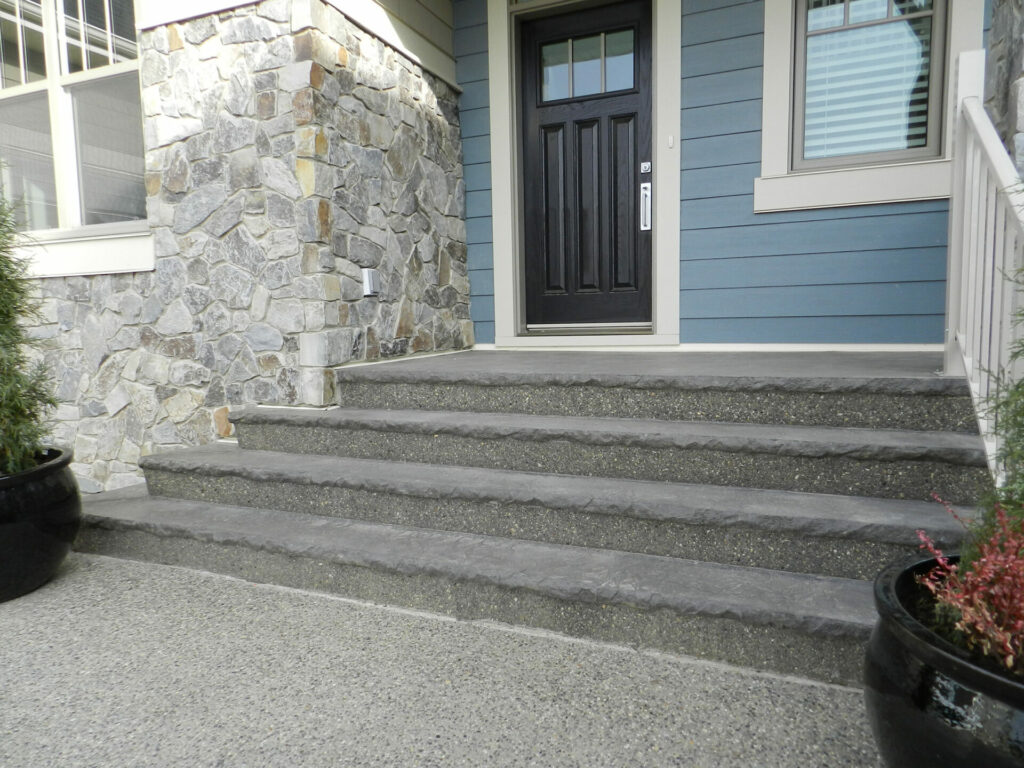 Never the type to rest on previous success, the company continues to grow. The effectiveness of its expansion and flexibility can be seen in a significant percentage increase from its 2021 sales, in both divisions. Increased spending on infrastructure has benefitted for both Proform Construction Products and Proform Concrete Services. Demchuk mentioned that the federal government infrastructure program allocated $3.65 billion for infrastructure projects in Alberta, which Proform credits as helping increase the amount of work that was going out for bids. New infrastructures such as buildings and parkades also aided in increasing the number of projects that were coming in to Proform.
In terms of the increase in sales on the Residential Precast side, there were record sales in new home construction in Alberta, and as a result of the pandemic, many homeowners dedicated more time and money to renovating and improving their existing homes. These two factors combined contributed to the sales increase, specifically with the likes of precast steps and window wells. From Business Development Manager for Proform Construction Products, John Third's perspective, the sales increase was more than just the circumstances, it was also due to Proform's diverse approach to projects, its policy of calling back and its close contacts with repeat clients.
This year Proform Concrete Services was awarded the 2022 ACI Award in Excellence in Concrete – Advanced Concrete Construction category. The award recognition was for the Cummins Fort McMurray Yard Reconstruction and Bonded Concrete Overlay project. This was the first time that this particular construction technology had ever been applied in an industrial application in Alberta. Proform credits the success of this new technological venture to having a team of people who think and work outside of the box. Understandably, Proform was incredibly excited to be recognized for this innovative solution because of the effort it expended into new and different solutions.
"The award recognition was for the Cummins Fort McMurray Yard Reconstruction and Bonded Concrete Overlay project."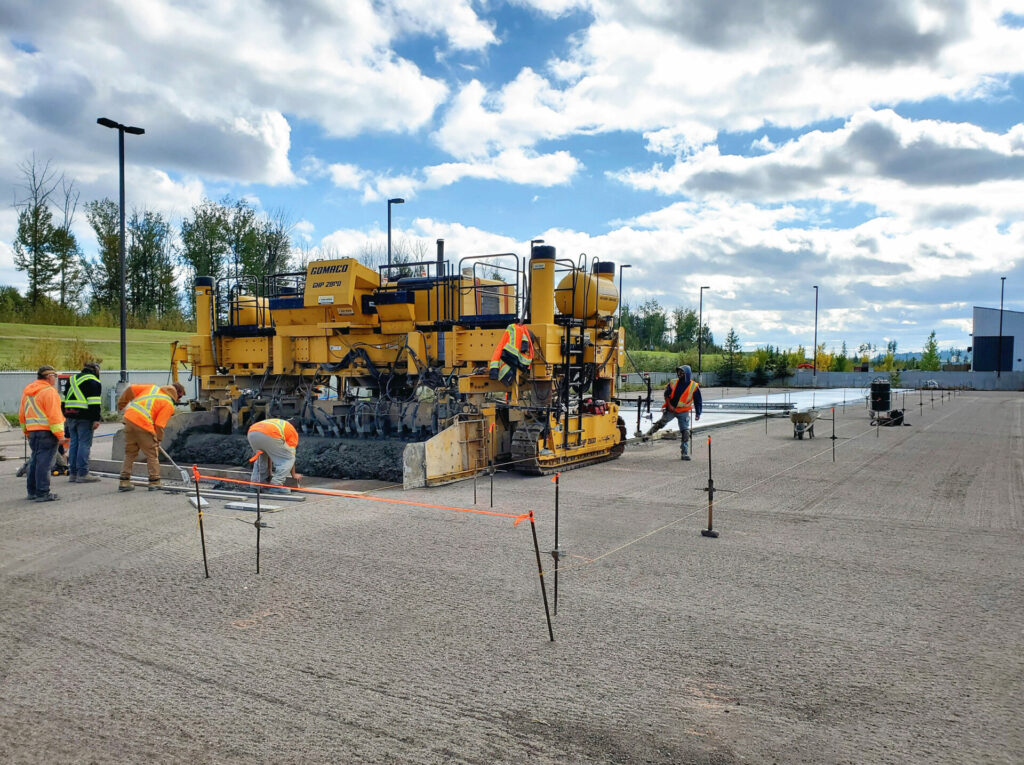 In terms of other standout projects that Proform Construction Products has undertaken, a recent Food Processing Plant project is Proform's first precast structure that was specifically designed for food handling. While the company has experience working with warehouses that deal with food-handling, this was the first project that entailed housing raw food in this manner. This project was an expansion for a meat packing plant into raw product handling, which entailed building what it colloquially referred to as a 'hot box', but it is in fact a freezer box. The reason this plant selected precast concrete and Proform, is because precast is the best choice for food-handling; it is clean, doesn't rust or corrode. Additionally and crucially, it is also a finished project as soon as it's installed. Companies that use precast concrete, as Third explains, are able to mitigate any kind of bacteria or contamination that might arise. For food-handling, the ability to simply hose down precast concrete without any concern of corrosion leaves precast and Proform as the best choice. Another benefit of the precast system for this project is the thermal control it afforded the structure, as well as its insulation capabilities. By using a very thick wall with concrete on the inside face, in this case eight inches of concrete, then four inches of insulation and another three inches of concrete, it created a thermal mass. For a food-handling space, this unconventionally thick wall offered incredible control and reliability on keeping the space exactly as cold as it needed to be.
In order to compete effectively in the Alberta market, Proform is also working towards diversifying their portfolio in other areas. Proform recently worked on a project on which there was only one other precast manufacturer in Alberta bidding on it. For this project, Proform used a 'Double-T' beam form for the roof structure, a form that can also be used for slab structures or parkades. Proform also uses an 'Inverted-T' structure, which efficiently aids the company in diversifying further.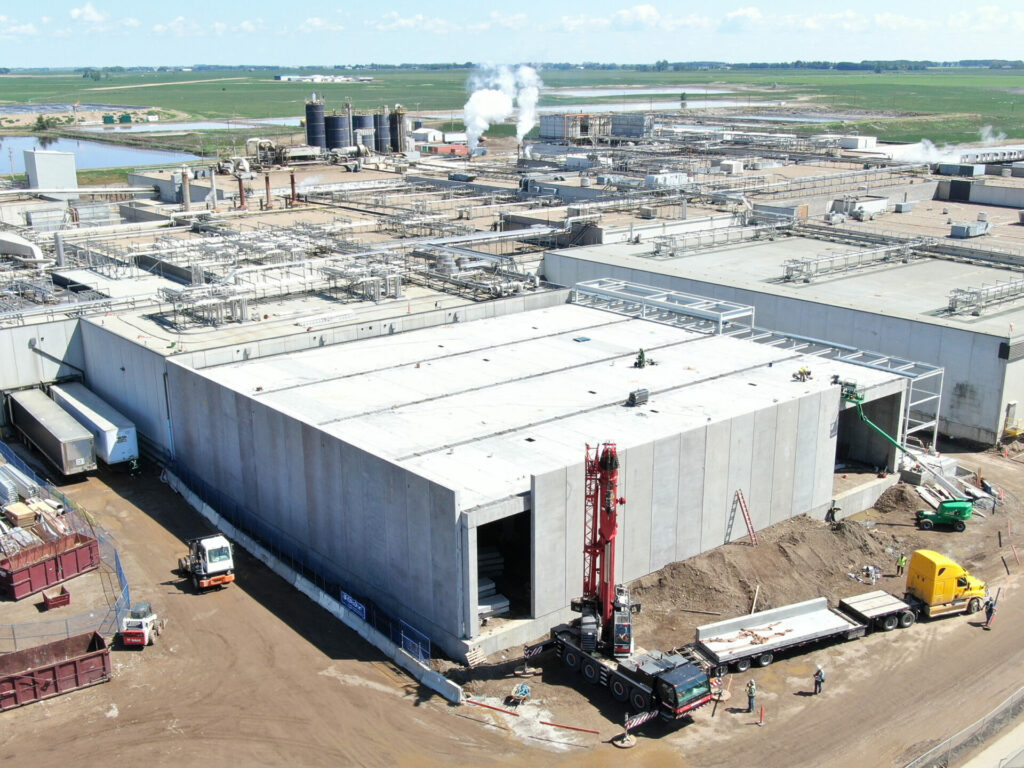 It's very important to the company as a whole to give back to local communities and charities across Western Canada. Proform earnestly strives to support as many of the communities that it works with as it can. For Proform that could mean supporting community centers that it has helped develop so that the community continues to thrive, and sometimes it means supporting other causes that are still very close to the heart of the business, such as the United Way and the Make a Wish Foundation. It aligns with the 'helping build communities' aspect of Proform's vision and is an integral part to how the company is structured and how it does business.
On Proform's website, it credits much of the company's success to its relationships with other businesses and industry associations. This is a reflection of more than just its contacts in the industry, as it speaks to Proform's desire to expand beyond being just a concrete contractor and precast manufacturer. Proform employs multiple general contractors that come from a general contracting background. This affords the company many contacts and associates from outside its own team, with a myriad of skills and experts at its disposal. As Third puts it, it's often the conversations that "aren't necessarily billable" between old friends or colleagues that will lead to innovation or a solution. As relationships and approachability are things which are part of the fabric of Proform, it quite rightly views itself as a company that is there "to build their buildings, not just supply them with precast."
In terms of Proform's diversity and continued diversification, its different bases of operation in Red Deer, Calgary and Edmonton allow Proform to offer more availability to an even broader client base. Demchuk explains that this diversity invariably adds more support to the client. "It is really important that we are able to operate a little differently in every location depending on the needs of the customers." Proform always strives to go the extra mile and to offer that more personal call or consult, to give its customers the most it can every single step of the way. Finally, Proform expects their growth to continue throughout 2022 and into 2023. The road to success for Proform Concrete Services comes from working on high profile projects like the Grande Prairie Highway 40 PCCP paving construction, Anthony Henday concrete pavement improvements and the Erik Nielsen Whitehorse International Airport main apron replacement. While Proform Construction Products recently acquired their certification to build bridges and bridge girders further expanding their precast product line. With this wealth of experience and rich history, it would appear that Proform's overarching plan for the future is to build bridges, literally and metaphorically.