The term Millwrighting may not be known to all, particularly those outside of North America. It is, however, a link to the development and heritage of CMF Group Inc. Over the past two decades, the company has provided excellence as standard. In conversation, Ryan Allaer's passion for the company is immediately apparent, and he shares deep insights into the impact the company has, not just within the industry, but in all walks of life. "We provide a service to businesses and industries that create the goods and products used by their families every day. Within the automotive industry for example, there are factories that make the many components that drive the vehicles that are moving down the road. Similarly, we could be working with the industries that create the plastics that are in their vehicles, or that make the pieces that come together in the factories that produce the food they eat. We become the mechanics in the background that keep these factories moving every day."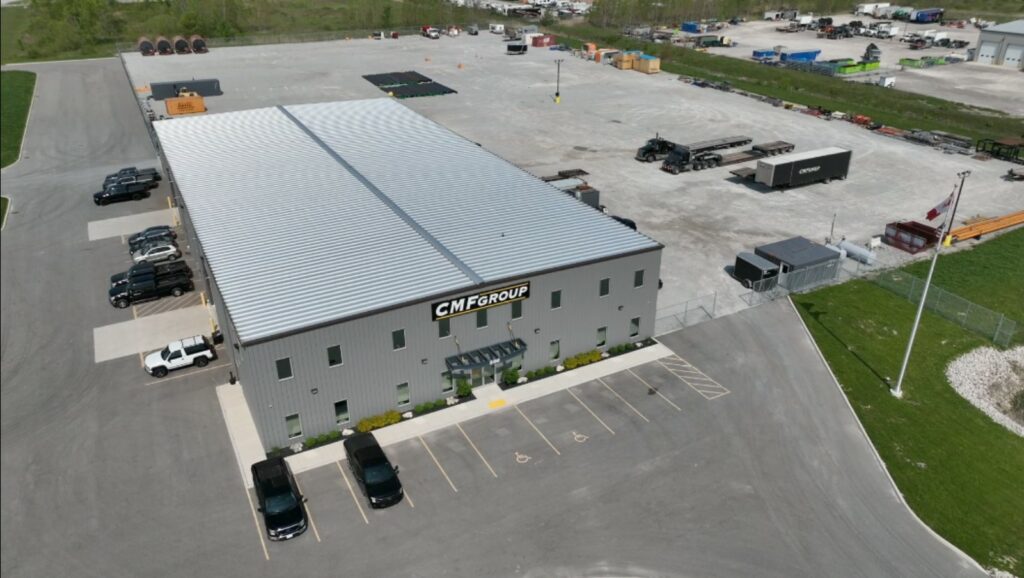 CMF Group is no entry-level industrial contractor. It has a rising profile as an agile and adaptable firm with a constantly broadening range of expertise in the industry. The company's portfolio encompasses automotive to petrochemical to plastics to food production, and on to the electrification of industries, especially the car industry. CMF's role is framed on a highly dependable core team and has excelled by being adept in dealing with emerging technology. It roots are, however, steeped in older, pre-electric days, as the term 'Millwright' implies. The basic definition, Allaer says, is that of an adaptable jack-of-all-trades, and that has carried on from an early era to the hyper-elaborate present. "We have a wide range of systems we can handle, everything from conveyor systems to steam turbines. It can be quite satisfying to people who like to figure out how things work."
CMF was established in 2005, building on a network of local Canadian tradesmen, primarily millwrights, who worked together under a joint ownership structure. Stronger US connections would come in time and the automation install, rigging, and machinery moving areas of the business proved to be pivotal in this regard. With these additions, CMF began to gain a lot of traction in the American market. "It is currently owned by four millwrights, all of whom have risen from a grassroots level," says Allaer. There is a strong connection and sense of engagement between the layers of the company – "even though at times we employ upwards of 500 people." To further this point, Allaer explains how the company employ ironworkers whose expertise is invaluable in certain settings. As he explained, the ironworkers originally focused on heavy rigging activities but as the company has adapted and pivoted to structural steel fabrication and installation, the workers are now providing their experience in these areas also.
With CMF Group mobilizing to job sites all over Ontario, Michigan, and California, the main bricks-and-mortar HQ for North America is in Madison Heights in Michigan, outside Detroit. With another office in Fremont, CA, which runs Southern states and the West Coast, CMF is also making more solid bases in Illinois, solidifying its geographical footprint. As Allaer explains, much of the work completed by CMF is executed with the large fleet it has at its disposal. "We often do very small, one- or two-day machinery install projects with crews of three to four people. Then something we do every day with a small crew is rigging – basically lifting things up and putting things down, moving things from one location to another. We deploy a very comprehensive fleet of mobile hoisting equipment, from specialized fork trucks to hydraulic gantry systems." Ongoing maintenance contracts with both food and automotive companies comprise the second tier. The last category is where the company truly stands out. CMF is currently involved in ongoing projects, collaborating with partners on a steadily building revolution – changing out components at the major automakers to prepare for the transition to the Electric Vehicle (EV) market.
It's not only been a matter of helping incumbent giants to electrify. One of CMF's standout feats has been its pivotal role in setting up Tesla factories. "The shift to the EV market fits very well with what we do," Allaer notes. The company's agility and expertise in moving advanced technology of almost any proportion – working at the cutting edge of laser scanning and alignment for instance – matches well with the demands of an industry wherein technology is changing all the time.
Allaer elaborates on CMF's involvement with Tesla, revealing that the Fremont office came about because the company went out to work with the EV super brand, specifically on the Model X and 3 assembly lines, which became "a feather in our cap when we went to work with other brands." The partnership underscores CMF's capacity to work in tandem with original equipment manufacturers (OEMs) and field-level teams, as well as international safety protocols when it comes to moving such heavy and unfamiliar machines and components. "In a lot of cases the equipment is coming from Asia or Europe, or other parts of North America. We dispatch crews to those places, so the process of working with the OEMs begins right there, and we get eyeballs on the material as early as possible."
As companies are constantly diversifying, exploring new markets and developing new technology, Allaer feels that the concept of a rigid market is no longer helpful. For him, the company's involvement with the bustling global EV industry has been eye-opening. "A company like [Korean electronics firm] LG, for instance, I might have thought of them as makers of flat screen TVs and phones – now they're working with carmakers. It's very impressive and I'm consistently impressed with the quality of the mass of equipment manufactured overseas."
Asked to put a name to challenges facing CMF and the industry overall, Allaer underscores the manpower deficit, a common post-COVID lament in many contexts. "There's a lot of work coming up, and there will be issues with finding sufficient people to match demand. We put a lot of time and effort into building out our team layers to be ready to face that demand. One key component of that is that we put so much emphasis on safety." From the point of view of persuading people to first enter, then continue to rise within the industry, a key emphasis that sets CMF apart is its holistic approach to human resources organization and protection, insists Allaer. In a market rife with manpower challenges, CMF has precise guidelines for building and retaining a sustainable workforce that feels valued and safe. Ryan emphasizes, "We put a lot of effort and take a lot of pride in taking care of our employees. People are going to have choices about where to work, and we want to stand out as the number one choice." The company's commitment to human-focused parts of the business – to employee well-being as well as the highest completion standards along the chain of work – aligns with its overarching goal of integrating ownership, senior management, and field technicians.
As CMF Group looks to the future, its horizon is expansive. The EV transition, while rapid in pace, will continue into the coming decades. Entirely new product categories may arise in the meantime, or – one imagines – a nearshoring or re-industrialization as the shape of global manufacturing changes. CMF will continue to present a diverse service offering rather than being drawn into any one dominant sector. The biggest key success factor to date, says Allaer, has been a willingness to work together closely with industry partners and build up relationships over years. The story of CMF outlines a company rooted in a long period of continuous industrial growth across North America. With origins in the early days of timber mills, through the post-war eruption of automobiles, one traces the evolution of an agile, team-centered model well-adapted to deal with the complex demands of the 21st century.