For 15 years, Global Rope Access has been reaching new heights as a leading rope access and rigging solutions provider in North America. The company was founded in 2008 by seasoned adventurer Sean Easton, who has applied his technical expertise and an intrepid spirit to create a company capable of taking on the most demanding projects across the continent.
Easton brings an interesting and somewhat unconventional background to his chosen industry that has a big impact on the way Global Rope Access operates. A lifelong passion for mountaineering guided him into a former career as a professional mountain guide and search and rescue technician. During this time, he recognized the potential to apply rope access skills from the peaks to industrial worksites.
As he explains, "we transferred our mountain skills to man-made structures" This novel approach allowed Global Rope Access to enter the market with innovative techniques to improve safety and efficiency for working at heights.
The company made an immediate impact. As Easton recalls, "We saw the opportunity to help our clients solve their problems about how to work in and access difficult-to-reach locations in a safer more efficient, and therefore productive way." Global Rope Access has built strongly on this offering and grown steadily, averaging 50% yearly growth over the past decade and a half.
Two key service offerings have fueled this impressive expansion. The first focuses on rope access solutions for stadiums and bridges. Global Rope Access technicians install sound systems, cell networks, bird netting, hvac, coatings, lighting, and perform concrete repairs and cleaning, suspended from ropes hundreds of feet in the air to reach areas inaccessible by traditional methods. They work on iconic venues including NFL stadiums, the tallest buildings and bridges in major cities, and most recently the Las Vegas Sphere.
As Easton describes, "We work on many mega projects, billion-dollar construction builds, and we're a critical component of them. Our clients have fixed deadlines, and these things have to happen, and when we step in, we're absolutely critical because there's no other viable solution to access and do the work that we do."
Geohazard mitigation comprises the second division, stabilizing steep slopes and cliff faces. Easton's extensive background in mountain guiding and rope access translates perfectly as rope teams rappel into treacherous terrain to stabilize rock faces and prevent deadly slides. As Easton describes, "We've been able to contribute to our industry by raising the bar in safety." Global Rope Access leads the industry in advancing rope-based safety protocols for this hazardous work. Our teams are trained in high angle rescue, this is a critical service for many of the work sites we go to.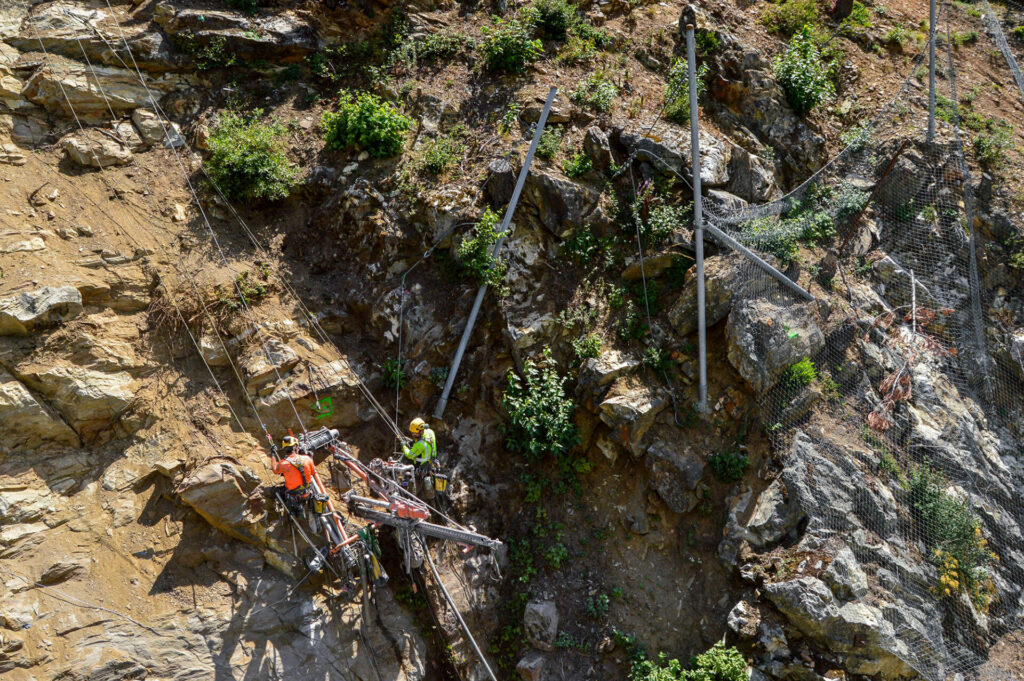 Through knowledge, care, and courage, Global Rope Access has cemented itself as the premier rope access contractor in North America. But Easton remains humble, attributing their success to his skilled teams. As he emphasizes, "our success speaks to our people, they take pride in their work, and have that passionate adventurous spirit. We rely on them to solve the problem and take us to all these great heights."
Safety is Easton's top priority. He explains, "We value the safety of our people first and foremost, more than anything else." Having endured his own workplace tragedy earlier in life which resulted in the loss of a loved one, Easton is intensely committed to getting every team member home safe after each job. This genuine priority for safety builds lasting loyalty amongst rope access technicians. As he notes, "I asked them: well, why do you guys choose to work here with us? And one thing that repeatedly comes up is our commitment to safety."
An adventurous spirit permeates the company and energizes its rapid growth. Global Rope Access intentionally seeks out the most complex access challenges. Instead of shying away from the toughest jobs, Easton's crews lean in. As he tells it, "Clients often call us because they're looking for an innovative approach…we always figure out a safe and efficient way to get the work done." Rope Access is a less costly and more efficient option for accessing work at heights compared to traditional methods like scaffolding, cranes, and man lifts in many situations. Sometimes it's the only feasible option. Easton credits his team's problem-solving aptitude and work ethic for their continued success and growth, saying, "It's attracting real quality people to the company who believe in the pursuit of excellence and continuous improvement, and who have that passionate adventurous spirit."
This aptitude for creative problem solving, combined with extensive expertise, makes Global Rope Access invaluable on sophisticated mega projects with tight deadlines. Their contributions are amplified by an agile, remote-first, technology-driven operations infrastructure that allows smooth coordination across far-flung teams and worksites. Easton credits the company's "growth mindset" for powering expansion into new markets and capacities.
"We value the safety of our people first and foremost, more than anything else."
Still, lack of market awareness remains an ongoing obstacle. Rope access remains a somewhat novel technique in the construction industry. As Easton explains, "We still go to some jobsites, where rope access is unheard of. We work hard to demonstrate the many benefits of rope access and quickly impress our clients. Once they see our crews in action and the production, we can achieve they universally adopt rope access as another tool for solving their access challenges."
One of the things that makes GRA unique is their ability to rapidly deploy teams to anywhere in N.A. Our expertise in working in remote locations on emergency response is where we have had some of our biggest wins with helping clients. He shares examples like crews rappelling into narrow canyons to drill and blast away rockslides that are blocking critical salmon spawning runs. Or stabilizing a crumbling slope above a hydroelectric facility that risks cutting power to an entire region. As Easton puts it, "We get a call after a disaster of some sort has occurred and go in to stabilize and make safe again for the people and the infrastructure that's underneath these rock faces." This is extremely satisfying work that the whole company rallies around.
Despite the company's success, Easton remains both hands-on and humble. Though he's moved into more of a business leadership role now, he still visits jobsites regularly to connect with the technicians doing the work. In his own words, "I started as a rope tech hanging on the ropes and turning bolts, and as a helicopter rescue technician extracting injured workers from mountain terrain. I would run projects and all aspects of the business, while working alongside our crews." This front-line experience enables him to stay tuned into the needs of his people.
As Global Rope Access continues charting ambitious growth, Easton keeps his sights aimed high while remaining grounded in a dedication to workers. "Our success is dependent on our great people," he says. For him, hearing the technicians take pride in being part of something larger, and safely going home to their families each night, are the greatest rewards. In his words, "I asked them, why do you work here with us? And they say: the culture of safety and excellence that we hold." We all are drawn to challenging work, and love being part of iconic projects. For our office team, they are empowered to have a real impact on the future of the company. Continuous improvement, skills development, and unlocking people's potential are critical. As a high growth company, it's a demanding business environment, change is constant, we are always having to improve and compete. Finding the right people who fit with our culture and thrive as we scale is key, it took many years to put together the amazing team we now have. We have a shared vision, we know where we are going, and we know what we need to do to get there.
Easton continues to take inspiration from his adventurous roots, saying "There's so many metaphors for life in mountain climbing, the call to adventure, overcoming adversity thru hard work and good judgement -I learned this in the mountains and can now apply it to business. Mountain climbing has really helped form who I am." This spirit drives him to keep elevating and developing Global Rope Access, while never losing sight of the team that makes it all possible.
After 15 years of success, Easton still feels the future holds endless possibilities for Global Rope Access to keep making an impact. As successful as we are, we can always improve, we always need to keep adapting to maintain competitiveness in changing markets. When we succeed at one thing, I think, there's always another mountain to climb, let's keep going. By those measures, the sky's the limit for Global Rope Access to reach new heights.