Reputation is everything in construction—especially when you're in the commercial space. Contractors in this market must often deliver on a massive scale while managing every little detail from the ground up. When you include budgets, timelines, and safety protocols, there leaves little room for error. For a corporate client or developer to throw their lot in with a contractor, there needs to be a great deal of trust.
In Houston and its surrounding area, Corvus Construction is a name whose reputation precedes it. Existing in the commercial market for three decades, Corvus is known for its commitment, professionalism, and strong work ethic. It has continuously translated these traits into quality builds and long-lasting relationships with the commercial construction community in Texas.
With a long-time focus on interior build outs and tenant improvement projects, Corvus' new ground-up division is taking the company into new territory. Building out a solid footing for such a move has been a climb three decades in the making.
For these last thirty years, interior construction has been Corvus' wheelhouse. CEO and shareholder Steve Thornton built out the company to specialize in this key area. Such a close focus allowed Corvus to become an elite name in the niche, much thanks to carefully designed systems that create predictability and consistency around delivery, quality control, and cost control—in addition to a cradle-to-grave mindset that creates long-term relationships.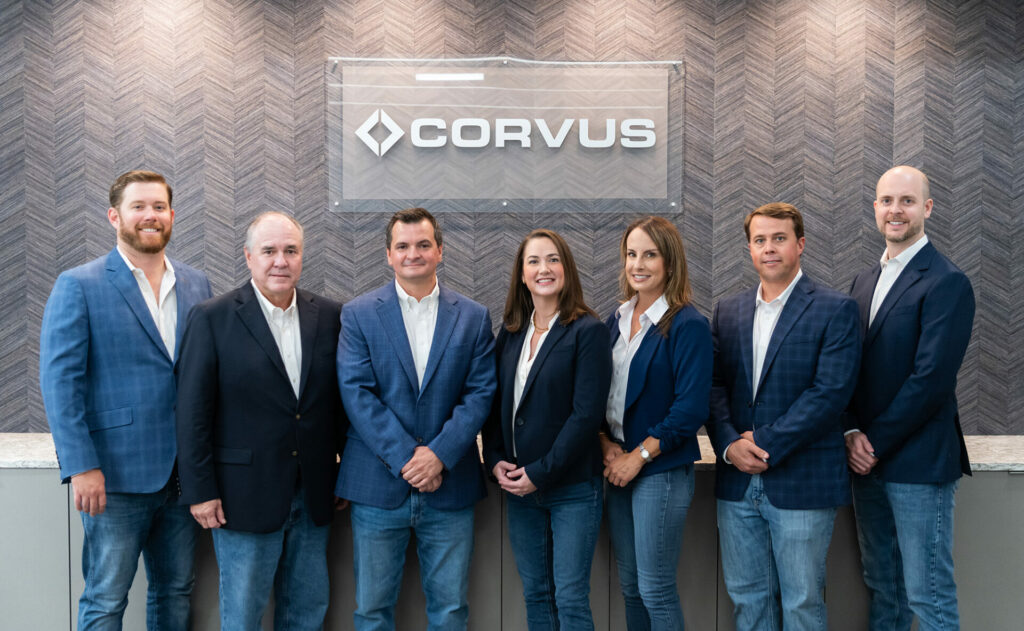 Corvus' Founder hadn't come out of nowhere either; Steve brought over 15 years of construction experience into the 1992 launch of the company. Commercial projects are successful when trust is placed in proven experience: this is an underlying trend for Corvus' growth in the 90s—and the reason why it continues to expand thirty years later. According to Will Thornton, Company President, trust doesn't just underly Corvus' client relationships, it also plays a role in its culture. "The culture at Corvus is family-oriented," he explains. "Our staff are tenured: employees know their job responsibilities and are given plenty of opportunities for advancement. Management has high expectations. Given such, employees are not micromanaged and produce high-yielding results." By bringing in top-tenured talent, Corvus has been able to operate with an unrivaled level of internal trust—which in turn reinforces its reputation in the greater market.
David Gross, Director of Interior Construction, continues to embody this in his work for Corvus. The company's interior division displays great competency in building out spaces for a variety of uses and applications. A recent project for beverage industry titan Keurig Dr. Pepper involved both a 10,000 sq ft office buildout in addition to 270,000 sq ft of warehouse improvement. A buildout for the legendary Persian rug weaver Safaveih saw Corvus craft 8,500 sq ft of office space along with warehouse improvements across the company's 1 million sq ft building. When Wrist USA—the world leader in shipping and supplying marine provisions—called needing a 12,000 sq ft office buildout and a 153,000 sq ft warehouse featuring a whopping 42,000 sq ft of cold storage space, Corvus answered.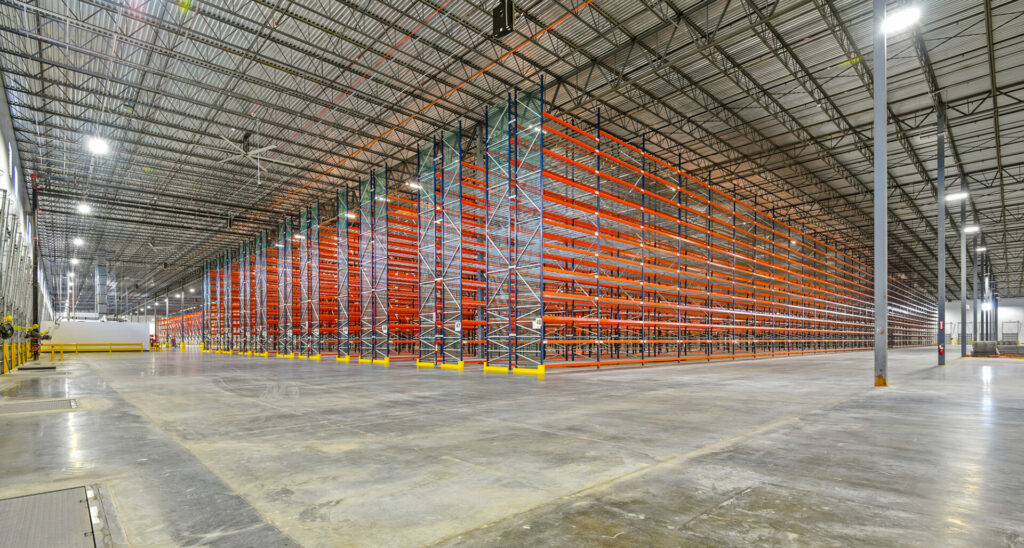 These are clients not just making waves in the Houston area—these are global industry leaders who view their Texas facilities as integral pieces of its operations. When it comes time to build, they find Corvus as a contractor they can trust. "We've proven to our clients time and again that we're able to get the tenant into the building and the lease commenced on time," Gross says. With this rock-solid reputation established, the last few years has seen Corvus flexing its muscles into new territory: ground-up construction.
"Customer relationships allowed Corvus to develop the ground-up division," Will explains. "Our customers wanted us to have a bigger impact on their business, and we wanted to be able to deliver a full-project-cycle experience with speed and efficiency."
Reputation matters to Corvus and its clients—and the Director of this new division needed to be a proven mover in the ground-up space.
Enter Blake McClendon. By the time McClendon joined Corvus in 2021, he had over 6 million sq ft of institutional tilt-wall experience under his belt. An army vet with over a decade of experience in the industry, the new Director of Ground-Up has long been a well-respected name in Houston construction—making him right at home in Corvus' ranks. "It was critical that Corvus acquired the right person to assist with starting this division," Will says. "We ultimately made the decision after a customer came to us with a recommendation and expressed the willingness to provide us with the opportunity." This was an exciting move for past clients who had dealt with both Will and McClendon separately. The two had worked on several shared projects in the past, cementing a mutual respect between the pair. By coming together, a turn-key solution was born. "There are great contractors in the ground-up market," McClendon says, "and there are project teams that have been tenured and are well respected in the marketplace. Being able to establish ourselves as a turn-key solution has given us a differentiator."
"Our customers wanted us to have a bigger impact on their business, and we wanted to be able to deliver a full-project-cycle experience with speed and efficiency."
Gross echoes this view, explaining how this approach ensures flexibility with no loss of quality. "Having both ground-up and interior divisions gives Corvus the opportunity to quickly convert a speculative shell space into something end-user ready without having to change the project team," he says. "Build-to-suit delivery methods give us the capability to begin the interior work very early in the project life cycle."
With both Directors being able to strategically coordinate the efforts of both teams, Corvus has furthered its reputation for delivering projects on time and on budget.
To see this process in action, look no further than the recent project on 1-10. Completed for Igloo Product Corp. (most known for their coolers), this two-building industrial warehouse and office facility is one of the company's most critical distribution hubs. The facility's footprint spans over 1 million sq ft and presented a great opportunity for the new ground-up division to prove itself. Built around a structural steel center core, concrete tilt-wall panel construction provides an exterior shell that will stand for years to come. Igloo required cross-loading and front-loading functionality, which Corvus provided in the form of 200 loading docks and 100 mechanical dock levelers.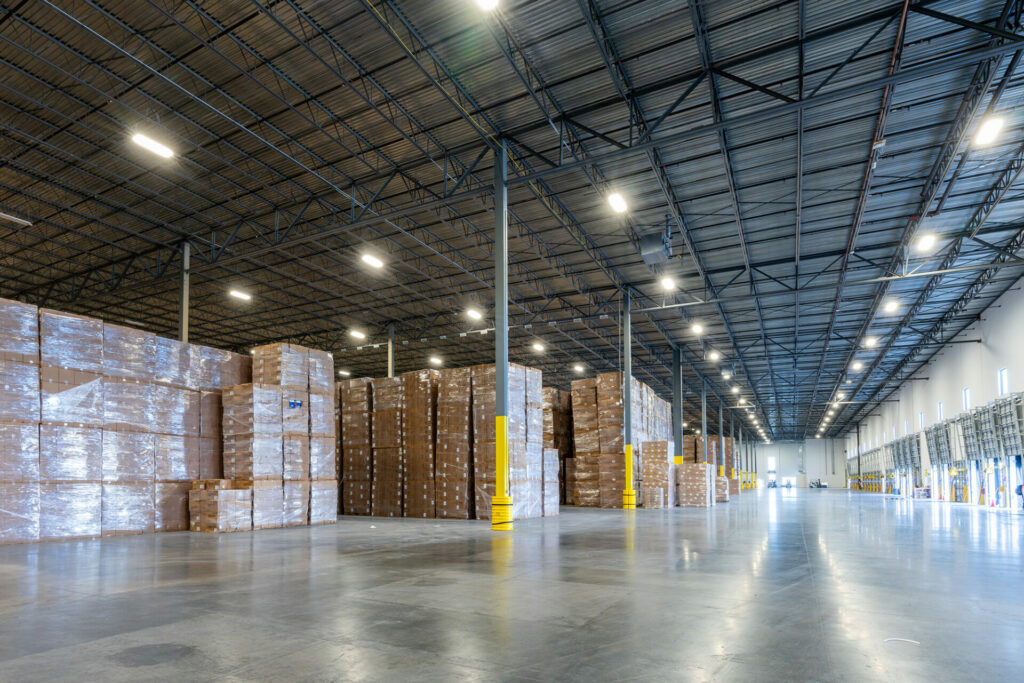 The Corvus flag also recently flew over a job site that delivered 474,000 sq ft of Class A institutional buildings for Alliance Industrial Company. As a speculative facility, the buildings on site were under a tight deadline to get tenant-ready and in proper shape to close leases quickly. Both of Corvus' divisions, along with the rest of the project team, were able to deliver.
Adding ground-up to the arsenal has brought in gangbusters business. Since the division opened two years ago, revenue has doubled. It's a snowball that continues to grow larger, as the reputation of Corvus grows from increased exposure.
The work of ground-up, by nature, has a far larger visual presence in the community in comparison to interior buildouts and tenant improvement. Corvus' place on Houston's biggest construction sites is more noticeable than ever before. This, paired with Steve's continued oversight of the business and the long-term relationships he's built over the decades—the Corvus name continues to drive high levels of trust.
The growth of the last couple of years has allowed the company to bolster its safety program, optimize its processes, and streamline its approach to winning jobs. Expansion starts with a solid reputation. It's with a great deal of trust that Corvus Construction lays the groundwork for Houston's future.
"The underlying principles of the company never changed," Will says. "We are proud of our work and are always willing to sacrifice profit to do the right thing. We seek long-term relationships and that cannot be achieved with low quality."
To see more of the work Corvus Construction is doing in Houston and beyond, visit their website.
corvusconstruction.com