The construction industry is woven into everything. More than just the roof over our heads, a building teaches us about our history, reflects the personality of our community, and inspires us to build a world that's better than the one we currently inhabit. Similarly, it takes more than just four walls and a roof to mark a construction project successful. To build something truly aspirational, a contractor, developer, or builder must bring a powerful vision to life. Fusioncorp, an Ontario-based leader in development and construction, takes this as a rallying cry.
From historic conversions to future-forward new developments, Fusioncorp combines a respect for the builders who have come before with a passion for constructing builds that push the needle in the daily lives of end users and their communities. Building for people, the boutique nature of this construction management and general contracting company ensures that the key principles of time, budget, and quality are always met. This is largely down to the active leadership of its CEO, Nick Ainis, who has a hand in every project. "We don't play with honesty," Ainis says. "We don't play with our integrity. We are like that with all our clients. We're like that with our trades. We have the highest bar set for ourselves. That's what is in every one of our buildings."
Operating in the competitive landscape of the Ontario market, running a company that's above reproach is integral to Fusioncorp's success. As a boutique organization, partners and clients enjoy the clarity and cohesion of working with a tightly knit team that can take them all the way from pre- to post-construction. "I see everything from A to Z," Ainis says. "Having that oversight is great because I want to make sure our clients are well served."
To get a picture of how each client is served, look no further than the company's Harbour Ten10 project out in Whitby, which is on track to be completed this winter. A 5-story modern building with 110 residential units, Fusioncorp is managing the execution of a minimalist, future-first design crafted by architect M. Shami. Employing a total-precast system, a major part of the process has been Fusioncorp's construction of the building's superstructure. Turning to Stubbe's Precast to manufacture the exterior walls of the project off-site, Fusioncorp had the building's envelope completed over the course of mere months, leaving it ready for roofing and interior finishes in great time. "The biggest challenge with the total precast approach is coordinating all the mechanical, electrical, plumbing, and sprinkler trades," Ainis says. "We need all those trades to provide input and information so that the architects and consultants can prepare their final drawings." With that in mind, it is no surprise that by putting an emphasis on communication and cohesion, Fusioncorp was the perfect choice to manage Harbour Ten10.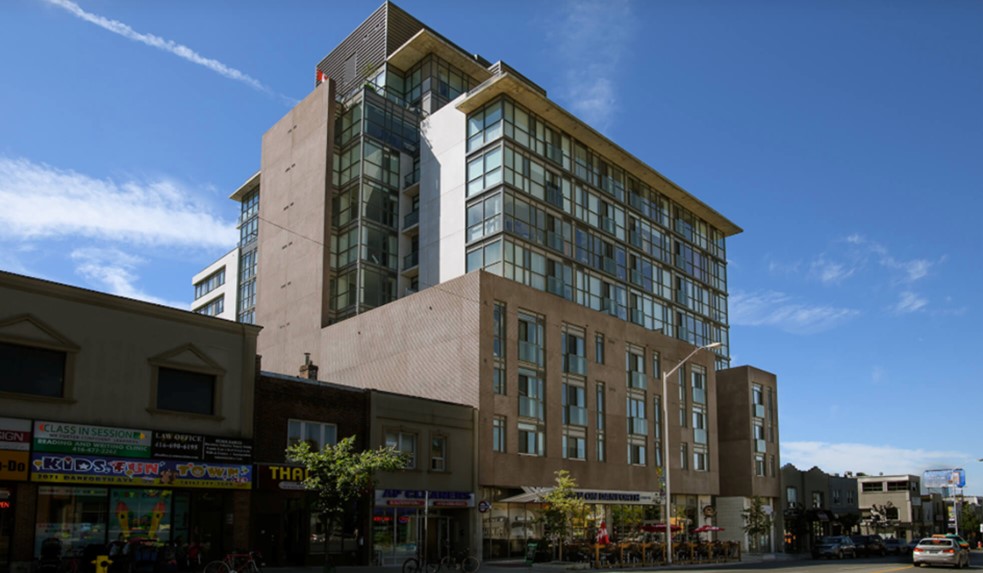 "We're proactive and transparent," Ainis says. "We're working for a developer who needs someone they can trust." These are principles that Ainis founded his company on in 2005. Having built a wealth of experience as a project and site manager in the condo development sector, Ainis' passion got him through the early years of the company. These formative experiences saw the company grow tentatively until it received its first standout project: Carmelina Condos on Danforth Avenue in Toronto. In managing the completion of this $50 million, 12-story project, Fusioncorp had truly arrived as a strong player in the condo development market.
It all started as a dream of Ainis and one of his business partners. Over the years, the vision of Fusioncorp manifested itself into one of Ontario's most well-oiled machines for construction management and development.
"It takes a while to find good people," Ainis says. "But one thing about Fusioncorp is that we've had people here for years. We treat it like a family business, and we have a lot of fun. I think if you get a good person that you like to work with, you hold on to them and you try to make sure that they are enjoying working for you."
The team that has gathered around Ainis is one that continues to bring meaningful projects to life. In the late 2010s, Fusioncorp participated in the GTA Aboriginal Affordable Housing Program by managing the construction of two affordable housing projects for status and non-status First Nations. For Ainis, the experience was an opportunity to give something back.
"It was exciting to work with the New Frontiers Aboriginal Residential Corporation," he says. "It was great to do something where you're helping these groups and people in need."
Historic conversions are another specialty of Fusioncorp, which fuels the company's passion for learning about the past and finding new uses for cherished spaces.
In 2021, Fusioncorp breathed new life into historical Downtown Newmarket, by converting a 100-year-old schoolhouse into a luxury condominium space. In 2016, it reworked Aurora's Wells Street School (the second-oldest standing elementary school in town), into a new community of loft-style residences. Currently in the works is a project that will turn an Owen Sound jailhouse into a premier event venue. This project will both maintain and honor the history of the Scenic City, while also offering Owen Sound a venue that will drive commerce, community, and progress.
"One thing about Fusioncorp is that we've had people here for years. We treat it like a family business, and we have a lot of fun."
"Our history and heritage are what give our city character," says Owen Sound Mayor, Ian Boddy. "It will be great to see this beautiful, historic building brought back to life when it opens its doors again."
"I love history," Ainis says. "Being able to work on a historic conversion project is exciting. You get to dwell on the history of the building and see all the way it's been constructed. You learn a lot about these buildings. You learn a lot about what should be done on a project and what shouldn't be in terms of cost-effectiveness."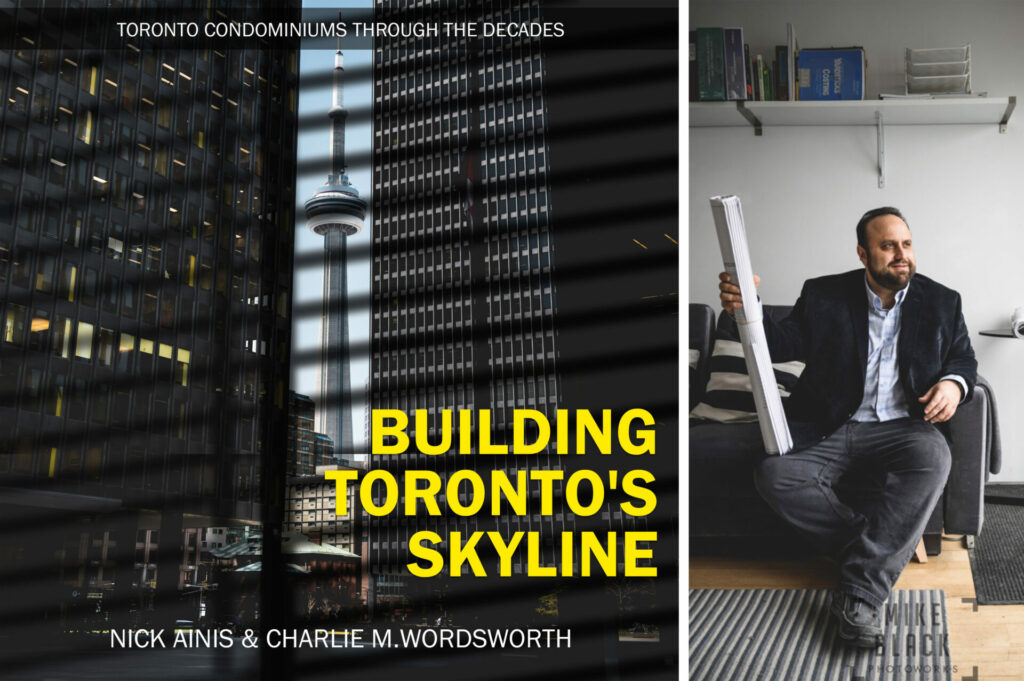 A student of history, Ainis ventured into new territory this year, authoring Building Toronto's Skyline: "Toronto Condominiums Through the Decades." Ainis' research and storytelling paint a rich history that goes beyond just the construction methods used to build Canada's premier city. The book dives into the social, cultural, and economic influences that shaped the skyline we enjoy today.
"I have a lot of interests," he says, "and I try to work on what I can. My book was something that I had been thinking of doing for quite some time, and I thought it would be fun and exciting. I learned a lot by writing it."
Looking at the history of buildings in-depth—while also performing historic conversions with Fusioncorp—has given Ainis a fresh perspective on the projects he helps manage. "I don't think people are thinking about the next 100 years when new projects are built," he says. "But it's a great question, and it's something that should be carefully considered. What happens to these buildings when they're really old? When you built a school, it was meant for a school. No one thought that in 100 years they'd be converted into condos."
Our buildings are wrapped with history—but within each one also lies a promise for an aspirational future (one only limited by our imagination). As for Fusioncorp's future, only one thing is certain. "There are no holds barred. We want to go as far as we can go, because why think small when we can think big? We want to do a lot more projects and we're working towards that."