Construction impacts community. From projects that transform a city's skyline, to buildings that are woven into daily life, the most successful contractors are the ones who are devoted to building upon their hometowns. By maintaining a focus on developing community, a collaborative approach will invariably offer the best chance of success for all.
This is evident when you visit Kansas City, Missouri, where general contractor JE Dunn Construction has been in operation since 1924. After 99 years in business, JE Dunn may be one of the largest contractors in America—with 26 offices nationwide—but it hasn't lost focus on the community where it all began. Its Missouri operations, led by Kansas City Office Leader Jeff Blaesing, continue to innovate on its legacy work with projects that support the growth of Crown Town and beyond. "We want to make win-win scenarios for everyone," Blaesing says. "The best projects are the ones that wrap up and everybody says, 'let's do this again.'"
JE Dunn's operations in the KC metro put an emphasis on transparency, collaboration, and maintaining a balance between community projects and megaprojects that push the needle at a monumental scale. Just a few of the company's latest projects show these principles in action: a 2.5 million-square-foot parking garage for Kansas City International Airport, its continued community-first contributions to the K-12 education market, and an eight-story office tower out in Overland Park, Kansas.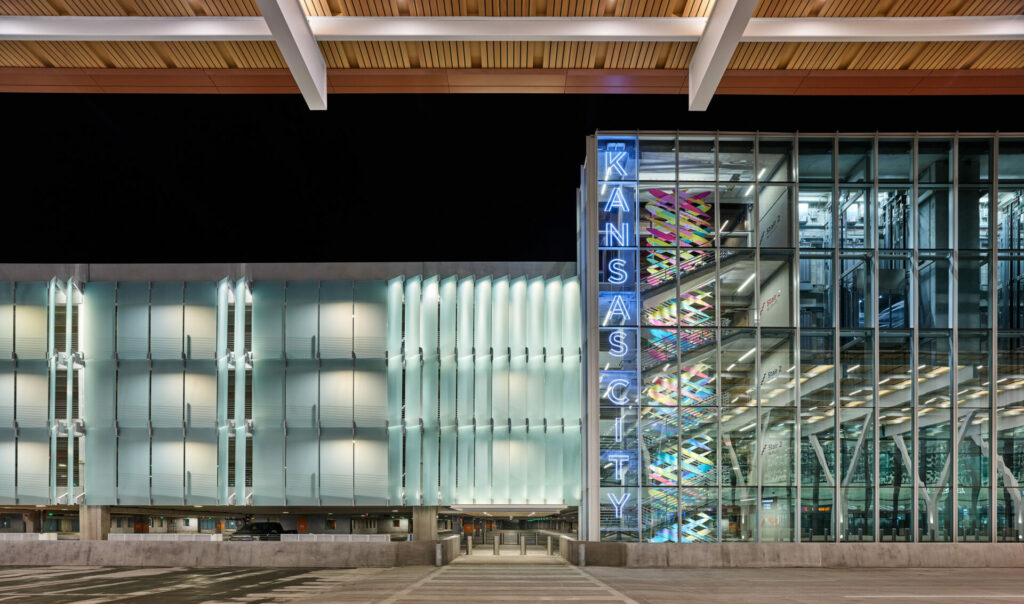 The tower in Overland Park is dressed in a curtain-wall exterior, with glass that catches the Kansas sky and blends beautifully with the surrounding environment. Exterior LED blades line the cladding on the north and south, leaving a long and lasting impression to passersby. This building—which sits at a crossroads between creativity and luxury—belongs to none other than Shamrock Trading Corporation, a Kansas City staple, and a titan of industry in the heartland of America.
Working on large-scale projects such as these can be challenging. With so much at stake, positive relationships are key. JE Dunn's commitment to offering an authentic partnership made it the perfect match for Shamrock, in this regard. "You have to go in with your eyes wide open," Blaesing says. "One of the first things we do on every job, whether it's with a serial builder or someone who's building for the first time, is to show them the critical decision-making milestones and continue to talk about them throughout the process."
While Blaesing and his team believe in the power of intricate planning and communication, there are always logistical hurdles for both the contractor and client to overcome. When building the Shamrock Tower, the team had to navigate hauling off over 275,000 cubic yards of dirt in a phased and cost-effective manner. "In order to expand our portfolio, we worked with the client and our mass excavation contractor to identify local projects that could test the material on the Shamrock site. That, in addition to having a very detailed excavation plan, made significant savings for the project in terms of both time and budget."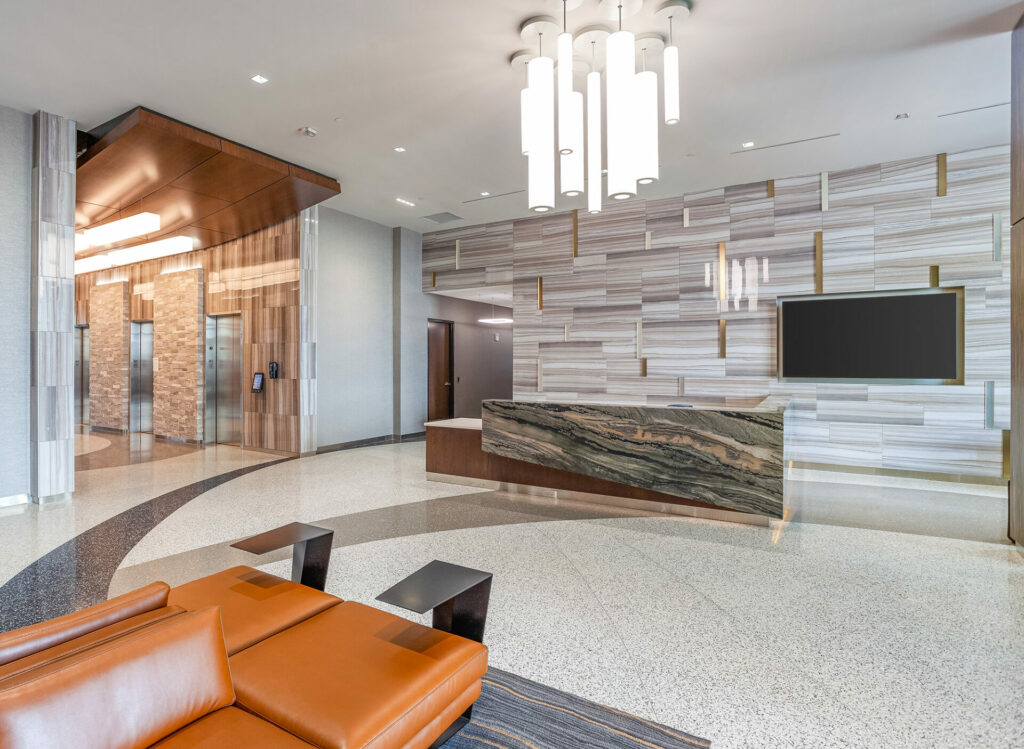 "It wouldn't be a construction project unless you had to make shifts and adjustments," he says. "That's where transparency and collaboration come into play. When we have a problem, we get the people that need to be in the room and talk about it openly and honestly. We had to switch two weather sensitive systems (fireproofing and exterior envelope) to ensure we could maintain schedule while installing both through an entire winter, saving the project both time and money."
The strong cohesion between this experienced contractor and a client navigating this scale of construction allowed the building of this tower to proceed smoothly. To clad the building in its soon-to-be iconic façade, eight-foot-wide floor-to-floor chunks of the exterior were brought in pre-assembled and pre-glazed. There were many moving parts to the project—as with every build that JE Dunn executes. Working at this scale, JE Dunn leaders deeply believe that collaboration is the ultimate avenue to success. "My primary responsibility is to set strategy that supports the regional and national efforts of our office," he says. "We compartmentalize each one of those office goals into the individual vertical markets that roll up our Kansas City book of business. When it comes down to a pursuit or strategy decision, we have an open conversation and determine what the best plan forward is."
"Working at this scale, JE Dunn leaders deeply believe that collaboration is the ultimate avenue to success."
This level of transparency, both in its internal decision-making as well as in its collaboration with clients, has made the Kansas City office a long-time partner with the community it belongs to. Even after a century of growth, JE Dunn has not turned away from its commitment to projects that are integral to the community. Its work in the K-12 school market, for instance, holds a special place in the hearts of Blaesing and his team. While these projects happen at a scale often smaller than the others that the Kansas City book of JE Dunn tackles (such as the 2.5 million square foot garage for KCI), working on education buildings and institutions brings unique logistical hurdles. For starters, teams often work within tight windows, working at speed to retrofit and renovate areas in the space of summer vacation. With timelines that are three months or less and bond-funded budgets that cannot be adjusted, a great deal of planning goes into executing with safety, expedience, and precision. "When we approach a K-12 renovation project," Blaesing says, "we need all the pieces bought out under contract in March so that when we get access to the space, we can hit the ground running. We've never missed an opening day for a school to-date—and we're not going to."
Safety is paramount in all projects—but projects such as these take that notion to another level. Schools never shut down entirely in the summer—and JE Dunn often works while camps and events run in other areas of the building. "We're constantly communicating with the administration and personnel in charge," Blaesing says. "We want to inform them about what we're doing and also understand what they have going on to make sure that not just our workforce is safe but that the surrounding community is safe as well."
JE Dunn's "X-Factor", particularly when it comes to its Kansas City operations, lies in the care it takes on these community projects in addition to its acumen in executing monumental builds. The company's spirit of transparency and collaboration allows local schools to open safely and on time. The same principles empower JE Dunn's teams to thrive when given the biggest projects Crown Town has to offer.
When KCI, one of Missouri's busiest airports, moved to open a new terminal for February 2023, JE Dunn had the privilege of being part of the process. Blaesing's team set out to build a parking garage—one substantial enough to accommodate over six thousand spaces. "This was a large project," Blaesing says, "and it was surrounded on all four sides by the construction of the airport proper. Logistics and coordination were crucial to the job's success."
To finish on time, the team was putting up 30 pieces of precast per day. With other projects being constructed around the site, moving and storing materials took a great deal of planning and communication with all parties involved. While this was a massive build, the workflow had to remain as lean as possible. "You have to be able to react quickly and change. We evaluated what we accomplished after the first two months and then we worked to perfect the plan." As in all of JE Dunn's projects, the Kansas City team's partnership approach resulted in the job completing on time, safely, and to the satisfaction of the owner and the community, who will use the parking garage for years to come.
With much to celebrate as the contractor approaches its 100th year in business, JE Dunn's Kansas City office, where it all began, is excited to continue its growth in and beyond the heartland of America. As JE Dunn's Missouri operation now grows into new markets, including industrial semiconductors, data centers, and even a women's professional soccer stadium currently being built in downtown Kansas City, transparency, collaboration, and an emphasis on community still drives the teams led by Jeff Blaesing. "We're balancing building all these megaprojects while still being a true community builder," he says. "That balance is a challenge, but it's something that I'm passionate about as leader of our Kansas City office."