For over 70 years, CD Barnes Construction has served the Grand Rapids area as a leading design-build contractor. The company was founded in 1954 by its namesake Cleve Dell Barnes and, now on its 4th leadership team, it has evolved and adapted greatly over the decades since its inception. At the same time, its roots remain strong, maintaining a commitment to quality, integrity and customer service across all levels of operation.
Current President Todd Oosting first joined CD Barnes in 1995, bringing a fresh perspective and energy. Eventually, he bought out the remaining family ownership in 1999 and along with Executive Vice President and COO Tom Berry, and Corporate Secretary Trevor Petroelje, has spearheaded efforts to transform CD Barnes into a progressive and collaborative construction firm since then. As Oosting explains, "In the 90s, CD Barnes was kind of a quiet company. They were doing about 5 or 6 million. They were huge in the 50s, 60s and 70s – one of the largest construction companies in Grand Rapids. But it's hard to last for 70 years, things come and go."
Under the leadership team, CD Barnes has pivoted from traditional hard-bid projects to focus more on negotiated design-build work. As Oosting puts it, "our vision was to get away from the old school hard dollar bid and spec world to do more negotiated design-build stuff. And since then, we are now 100% negotiated design-build." This collaborative approach sees CD Barnes partnering with clients from start to finish, as Oosting describes: "We sometimes spend years with our clients, helping them find land, helping them get their property and project entitled through the municipalities and permitted, help them with financing, and all kinds of creative ways to remove the barriers to get their project built in the best, most efficient way."
At the same time, huge efforts have gone into transforming the internal company culture into a more supportive and empowering environment for all employees. One of the early initiatives adopted by the staff was to lay out a new "Core of Ethics" which centered around values like honesty, integrity and respect. According to Petroelje, in order to execute the shared vision of the management team the company's hiring policy has been strategic and forward-thinking. "We wanted a certain type of team member, so now we don't self-perform any work, we sub everything out. So, our 35 employees are all managing." He continues, "Our entire team unveiled this core of ethics at a company meeting where everybody signed it. And we said that if this isn't who you are, if you can't do these five simple things, then this probably isn't the place for you."
"Always do the right thing. Always tell the truth. Work hard, be honest, have integrity."
This formal yet practical set of ethical principles helps guide employee behavior and ensures that the CD Barnes team lives up to the company's high standards both on- and off-site. It's just one aspect of the positive culture the company has built, focused on treating staff like family. As Oosting puts it, "We work hard on our social events. We pay our team as much as we can possibly pay them, both in time off and financial ways, cars, whatever we can do to make their experience here better." Petroelje shares more on this approach: "We wanted the type of person that was committed. So, we instilled the CD Barnes core of ethics, which is: Always do the right thing. Always tell the truth. Work hard, be honest, have integrity. And then the owner always comes first. We call our clients 'owners'."
With strong internal foundations now in place, CD Barnes is looking towards strategic expansion and growth. As a well-established mid-sized contractor in Grand Rapids, the company has set its sights on broadening its geographical reach across Michigan and into nearby states. There are also plans to expand the company's commercial construction expertise into new sectors like multi-family housing, which offers major growth opportunities.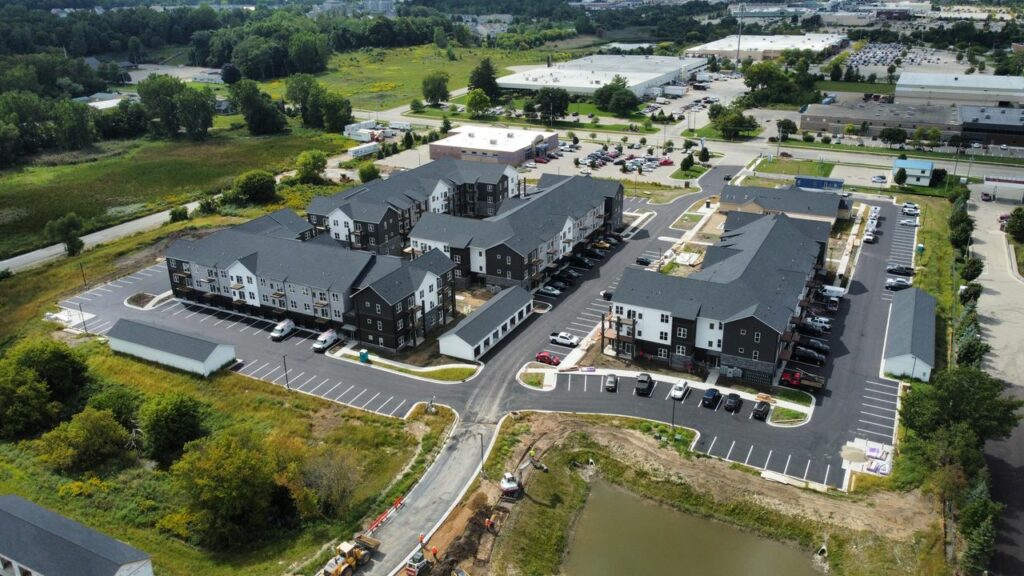 One current project that's pushing boundaries for CD Barnes is The Commons at Rivertown, a 408-unit apartment complex that is the largest endeavor the company has taken on to date. The upscale community includes a clubhouse with fitness facilities, community rooms, walking trails and more premium amenities. Through careful planning and supply chain management, Estimator Jason Kauffman and the team are overcoming logistical hurdles to successfully deliver this milestone project.
In addition to that, CD Barnes recently completed work on the Ramblewood Clubhouse. This project, a 10,000 sq ft clubhouse to meet the needs of a community that consists of almost 1,200 units, came about due to a long-standing partnership with Peak Management, who look after the Ramblewood complex. According to Lynne Blondell, Project Manager on the clubhouse, no expense was spared in either design or build. "The brand-new clubhouse includes Leasing Offices, Co-Working Spaces, Fitness Center and Open Concept gathering areas. Outside you will find a large swimming pool, pickleball courts, and a pavilion that overlook a playground, firepits and grilling areas." Having successfully worked with Peak Management on The Reserve at Oxford Place, Blondell feels that they are a testament to the benefits of cultivating partnerships built on trust and quality workmanship. "Both multi-unit housing projects were completed successfully due to the continued relationship between contractor and client. Continuing to foster these relationships lead to clients who turn to CDB for future construction projects."
The Ramblewood Clubhouse was not without its challenges, however. As Blondell explains, material lead times and an unexpected soil erosion issue meant that the team at CD Barnes needed to draw upon all its nous and expertise. "Our team identified critical long lead materials, -mainly the 3 new Roof Top Units- and were able to openly discuss the issue with the client and resolve it in a manner that appeased all parties. Also, while under construction, our team noticed areas of soil erosion throughout the site. Our team was able to correct the soil erosion problems while simultaneously blending in the new landscaping with the already established surrounding property."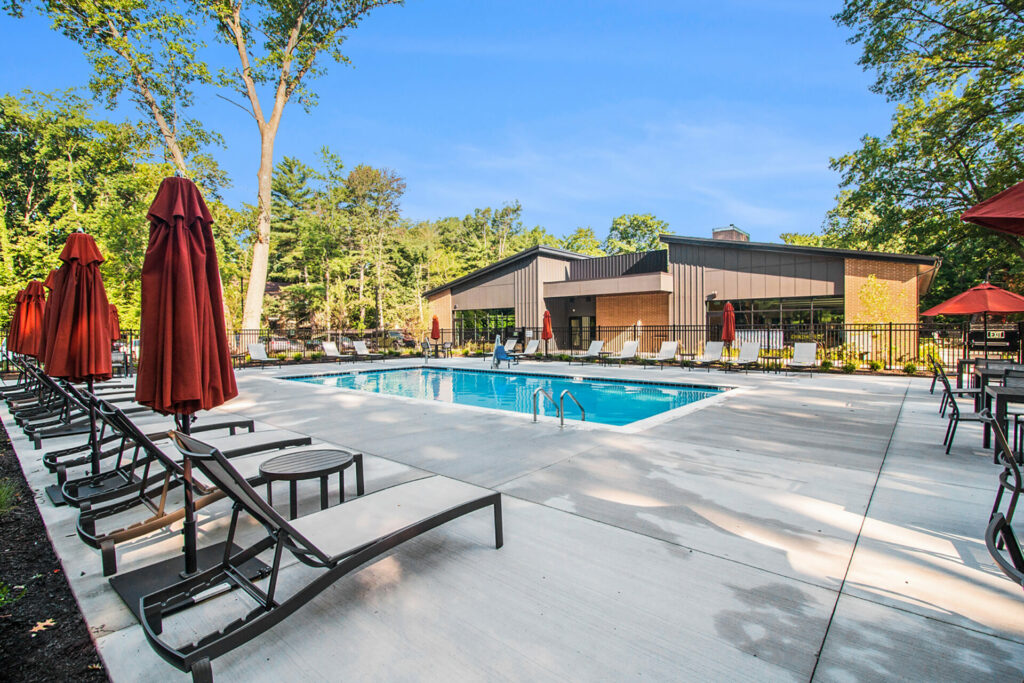 Another of Oosting's main focuses is to promote diversity within the traditionally male-dominated construction industry. CD Barnes has been cultivating partnerships with organizations like Women into Construction (WIC) and actively recruiting talented women into project management and leadership roles. It's part of a progressive, future-oriented attitude that the company is fully committed to developing. As Oosting proudly shares, "That's an area we're concentrating greatly on."
Expanding to new regions will require building relationships and reputation from scratch. Berry, who leads construction operations at the company, acknowledges that this will invariably mean starting again: "When we go out of state, we don't know these people, we don't have relationships with them, they don't know us, so there's a little bit of that hill to get over." But he feels the company is ready for this next chapter, and the right partnerships will help smooth the transition. Summing up the company's growth strategy, Berry explains how geographical expansion is a vital next step. "We are probably going to have to expand out of Michigan to continue to grow. If you want to be a real big contractor, you have to do work in multiple states."
As CD Barnes looks ahead to the future, the inevitable succession of leadership is something that Oosting has given consideration to. Leaving a legacy of quality and integrity for the next generation is something that he sees as being of vital importance. "What I would like to achieve is that, when I do walk out the door, my team will be taken care of, and the company will be in good shape so that the next generation can come in and run it." Oosting elaborates on this vision for the future, "We want to see our volume stay above 50 million consistently with some decent profit. Our focus is currently on assembling a professional team with diversity."
It's clear that the CD Barnes approach and its company philosophy not only gets things done, but also wins the respect of many satisfied owners. JARS Cannabis COO Raymond Abro shares his perspective on working with CD Barnes: "JARS Cannabis is more than just a retailer; it's a canvas for immersive customer engagement. CD Barnes Construction has been instrumental in constructing retail spaces that not only prioritize functionality but also seamlessly accommodate an extensive selection of cannabis products, elevating the customer experience to new heights."
CD Barnes has completed several cannabis retail projects for JARS, renovating older buildings into modern, high-end stores. Project Manager Casey Pinkelman has fostered a strong relationship with JARS through excellent communication and execution. Despite the tight timelines often involved in opening new cannabis locations, CD Barnes delivers exceptional spaces while meeting demanding deadlines.
The legacy of the CD Barnes name also imparts a strong sense of responsibility to the team. As Oosting explains, the history of the company is always a consideration. "We respect what the family did. Jack's and CD's and the Barnes' family names are on a lot of plaques around town. They were good people. They did a lot of good stuff. I still have pictures of them in the office."
With a commitment to ethical principles and adaptability engrained in the CD Barnes culture, the company is poised for continued success into its eighth decade and beyond. It takes great pride in its legacy while constantly evolving to meet changing demands. As Oosting states, "We are a very different company, as most are after being around a long time. But our team are proud of our history and our good name." Here's to 70 more years of continued growth and success for CD Barnes Construction.