Coastal Precast Systems LLC (CPS) is a heavy marine and highway precast company, specializing in highway transportation, ports, and marine construction. With prime locations near the Chesapeake Bay on the Elizabeth River, Cape Charles, VA and Wilmington NC; Coastal Precast Systems holds the enviable reputation of being able to service clients up and down the entire east coast, into the Bahamas and Caribbean.
The company's true value is in its employees. CPS employs over 400 people between the three plants and have full engineering and drafting department to support the most difficult schedules. According to Dave Neal, Vice President of Sales at Coastal Precast Systems, "We have great people at all three plants, we are fortunate to be able to retain a high percentage of employees from year to year". CPS roots run deep; the company founder Paul Ogorchock remains the owner after 50 years. His father Jack Ogorchock started a ready-mix company in 1946. Paul founded the precast side of the business in the early 1990s. The Ogorchock's have run a family business in construction related activities for over 75 years and look to continue far into the future with Paul's children, Brian and Kristen both working for the business.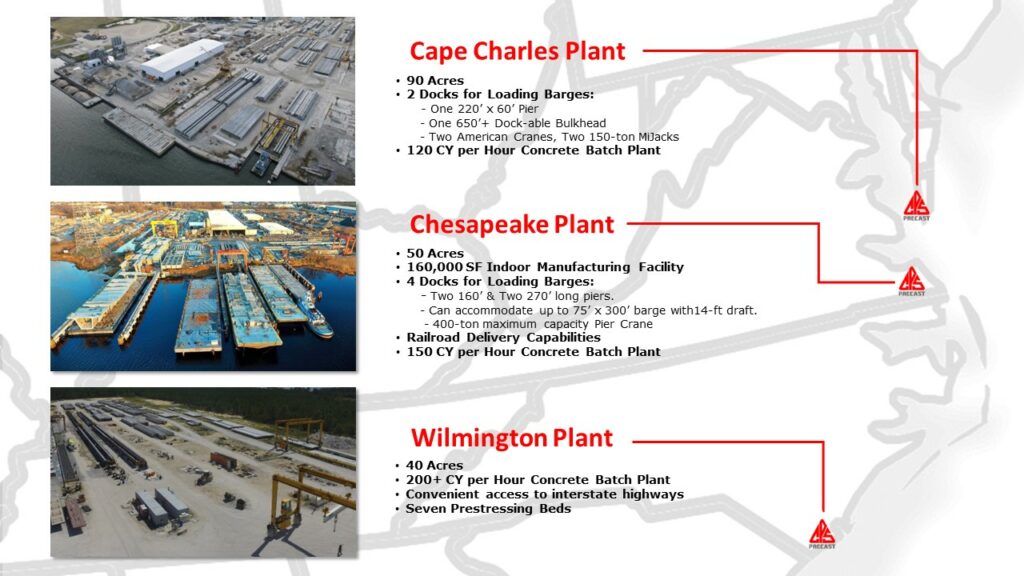 This success is aided by the company's extensive footprint. Due to the large capabilities from the company's two Virginia plants, the company can, according to Neal, "Service the east coast and Caribbean by marine transport." The CPS Wilmington facility services the Carolinas down to Georgia. While the locations may differ in geography, the quality of products and materials coming out of each of these plants is in strict conformance with the CPS gold standard of quality. The three plants, each strategically located on the east coast, deliver the same quality products with Coastal Precast producing many structures for Department of Transports (VDOT, NCDOT, NYSDOT, MDOT), federal projects, and private enterprises. These include precast/prestressed such as bridge beams (Bulb Ts), pile caps, and piles in addition to other specialized structures such as segmental bridges, precast coffer dams and fendering for port projects. The plants do, however, differ in size and range from an impressive ninety-acre facility in Cape Charles, VA which was acquired in 2019 (formally Bayshore Concrete Products), to the forty-acre plants in Chesapeake, VA and Wilmington, NC. The Chesapeake plant being their main precast yard with four barges slips serviced by gantry cranes, Mi-jacks, and fixed rail cranes. Chesapeake offers heavy lift capabilities, with a 400-ton crane for lifting the larges precast components. All three plants are PCI and DOT certified and have Central Mix facilities, which gives the company the additional benefit of being able to produce its own concrete to meet the most difficult mix designs.
Impressive equipment and facilities make a good resume, but it's the integration of the parts that make CPS unique to the industry. If contractors require a heavy lift precast component, CPS has the equipment, property, and skilled labor to handle the largest and most difficult precast projects.
The company has an extremely high capacity when it comes to production and handling the largest transportation and marine projects. It offers a wide range of services to its customers, mostly for DOT highways, bridges, and sub-structure. However, Coastal Precast doesn't stop there. Its in-house skillset allows it to assist in design-build projects for navy piers, container facilities and port projects. Alongside this, the company manufactures square pilings ranging from 12 inches to 36 inches and cylinder piles from 36 inches to 66 inches in diameter, along with DOT-type pre-stress beams starting at 29 inches and going to 95 inches in height, and 200 feet in length.
"Impressive equipment and facilities make a good resume, but it's the integration of the parts that make CPS unique to the industry."
Diversity in utilizing its resources, CPS offers a broad range of products and services seems to strengthen its core business. As testament to this, the company also does a large amount of custom concrete work, specific to each job, with Neal noting "there's not much we say no to as far as product lines – we'll build just about anything." This versatility is aided in no small part to the facilities and resources Coastal Precast has at its disposal. The company boasts its own fleet of in-house trucks, with 20 available to service the company's trucking department. Alongside this, the company owns its own 56' X 220' ABS Barge with a 3,500-ton capacity, that handles marine transportation.
The exemplary work being done at Coastal Precast can be seen in every project it takes on. However, several recent projects stand out for Neal when asked about company successes. He explains that working on the Harry W. Nice Bridge in Maryland, a two-and-a-half-mile long bridge connecting Virginia to Maryland was "high profile." In addition to this, the three and a half mile Marc Basnight Bridge in North Carolina was an opportunity for Coastal Precast to demonstrate the full repertoire of its skills. Neal explains that the bridge was "a combination segmental and conventional girder construction," with 284 segments along with 400 girders. For Neal, the project was interesting in terms of the volume of technical skill required. "That bridges were a nearly a complete pre-cast structure, similar to the Harry W. Nice Bridge in that sense, from piling, foundation tubs, columns to precast caps and girders."
Currently, the company is working on the Hampton Roads Bridge Tunnel, a four-billion-dollar project for VDOT (the largest highway construction project in Virginia's history), which includes two new tunnels and nine miles of above-ground bridges connecting the tunnels to land. What is interesting about this project is that the products used are made with carbon fiber reinforcement, utilizing CFCC pre-stress strands and reinforcement from Tokyo Rope USA, along with the piles and girders. Neal explains that this is a ground-breaking project and truly shows the innovative services available to customers of Coastal Precast. "CFCC is new product that hasn't been used by a lot of different departments. Now, it is being used on a large scale for the first project ever." These products will include 1,023 54-inch cylinder piles utilizing carbon fiber, ranging from 75 feet to 140 feet in length. Alongside the piles, Coastal Precast is doing much of the pre-cast pile caps with stainless steel reinforcing and will provide bridge beams from 29-inches to 85-inches in height and lengths from 60 feet to 140 feet, all with carbon fiber pre-tension strands. Neal stated, "Carbon fiber strand and stainless is the way of the future for marine applications".
Looking forward, the future for Coastal Precast Systems is a positive one. For Neal, this ongoing success is not only a good thing for the short term, but it also provides a steady platform on which the company can grow and develop into new markets. With enough work for the company to maintain its current trajectory for decades to come, it is now looking to expand into the wind turbine market. According to Paul Ogorchock, the potential benefits in this area are enormous. The company has just picked up the Portsmouth Marine Terminal in Portsmouth Virginia where a new offshore wind port will be built, with Coastal Precast Systems providing 1400 36-inch square piles. Paul believes that this project will have a massive positive impact in the area. "This will be the biggest thing that's going to happen around here in the next ten years." Alongside this, the company is currently working on several jobs that will put Coastal Precast firmly on the map in terms of the offshore wind market; something that those at Coastal Precast are very excited about. "We believe that this is where the future is for us. As far as big projects go, offshore wind will be a huge focus." With site locations providing excellent strategic advantages and a wealth of experience and skill in-house, it seems that Coastal Precast has everything in place to remain a leading player in the precast market. What truly sets the company apart, however, is its ability to pivot and grow in a seamless way. Coastal Precast has the impressive ability to anticipate the industry's needs and position itself accordingly. In moving towards offshore wind, the company is once again showing itself to be an industry leader. You wouldn't bet against it growing once more and identifying the needs of the market long before its competitors.