Jesse James Ferguson was only 16 when he started his sand and gravel business in 1941. His only assets were a few dollars borrowed from friends, a shovel, and a Ford truck that he had converted into a dump truck. At that time, his biggest dream was, by modern standards, a modest one. The goal at the time was to grow his company by purchasing four or five extra trucks. Eighty-two years later, the company has surpassed even the most hopeful goals for Ferguson, and the company stands as a testament to the success that can be achieved through honest, hard work. JJ Ferguson, the company that bears his name, has become Mississippi's, Alabama's, and Arkansas' leading supplier and transporter of prestressed concrete beams for bridges. With its head office on Highway 82 in Greenwood, Mississippi, JJ Ferguson is now led by Shannon Steen and employs an incredible 110 workers. 
It goes without saying that eighty-two years is a lifetime. Such a length of time in the business world, even more so. With such a rich and deep history, business scope and leadership changes are almost inevitable. Nevertheless, JJ Ferguson still maintains the same dedication and family atmosphere Ferguson instilled way back at its inception in 1941. The company's evolution from a sand and gravel business into a prestressed beams manufacturer was gradual and steady. At one time, JJ Ferguson was also an asphalt operating contractor. Since becoming involved in the precast business, the company has continued its long legacy of actively contributing to delivery of the highest standards. Striving and advocating for the highest industry standards is one of the key values the company holds. This is evidenced by the fact that JJ Ferguson is a producer member of PCI Gulf South, where Steen sits on the Board of Directors.
Being involved in the industry for such a long time, it goes without saying that a company will experience periods of transition. In 2005, after 64 years of hard work, Ferguson passed away. By growing his company, Ferguson had built more than a successful business. He had indeed built a family of loyal and affectionate friends. Two of these friends and long-time employees, Rocky and Shannon Steen, purchased the company and brought it into a new generation, all the while continuing the incredible work and high standards the company had become known for.
Steen remembers when she started working with the company. "I came to work here in 1996 in the job cost office, and I met my husband here, Rocky Steen. He was the office manager at the time, but over the years, he worked up to being Vice President." After welcoming their children and with her husband in a demanding position, Steen decided to dedicate more time to her family and left her job in the finance department. Once they took over JJ Ferguson in 2005, Rocky Steen became President of the company. His business acumen, ability to delegate, and thoughtful leadership represented a powerful drive for JJ Ferguson over the coming years. As part of his strategic plan to focus more on prestressed concrete beams, Rocky Steen decided to sell the asphalt operations part of the business and downsize.
As Steen explains, this strategic decision hasn't had an impact on the attention to detail that runs through the company. "At one time when Mr. Jesse got the company started, he had probably over 600 employees, 400 trucks, different asphalt plants, ready mix plants, gravel plants located across Mississippi," she says. "We currently have about 110 employees. We have the sand and gravel division, which of course, is road building. We have transporters that haul dirt and gravel, and they transport our bridge beams that are made in our prestress yard. We have a ready-mix concrete plant. Its main purpose is supplying our prestress/precast yard with concrete, but it also facilitates outside concrete sales. Then, of course, we have our prestress yard, which is a supplier of the bridge components."
Unfortunately, in early 2017, Steen's husband, Rocky, passed away. His passing was a huge loss, not only to his family but also for his colleagues and friends at JJ Ferguson. For a few years, the company was led by former Vice President of internal operations, Christy Powell. However, it wasn't long until Steen decided to get back in business. "About three years after Rocky died and some serious thought and a whole lot of praying, I decided that I would step into his role as owner and President of JJ Ferguson," she says. Thanks to the support of her team, Steen's transition into her new role was smooth. A strong and intelligent woman, she knew from the beginning she had to find her own way to manage the business. "Building roads and bridge beams and hauling dirt and gravel are not every woman's dream job, but for the sake of my three kids, I thought it was the right thing to do." As Steen points out, her strength is in the holistic development and care that she puts into the working relationships throughout the business. "I'll be the first to say that I'm not here because of my vast knowledge of road work. I can't tell most of these men how to do their job, and they know that, and I'm fine with that."
"JJ Ferguson is as strong as ever and has become a reference name for prestressed beams for bridges across Mississippi, Arkansas, and Alabama."
Unsurprisingly, her honest and open approach to leadership has been very effective so far. JJ Ferguson is as strong as ever and has become a reference name for prestressed beams for bridges across Mississippi, Arkansas, and Alabama.
Over the past 82 years, the company has carried out profitable and notable projects in the road sector as well as in the prestressed beams field. In fact, the team at JJ Ferguson is currently working on a $7 million job in Washington County. The Mississippi River Bridge in Lake Village, Arkansas, was constructed by using products made by Ferguson. Some years ago, we completed a $20 million project in Jackson. JJ Ferguson has also supplied concrete beams to build the I-69 section between Tennessee and Mississippi and performed roadway work for the widening of Highway 82 across the state.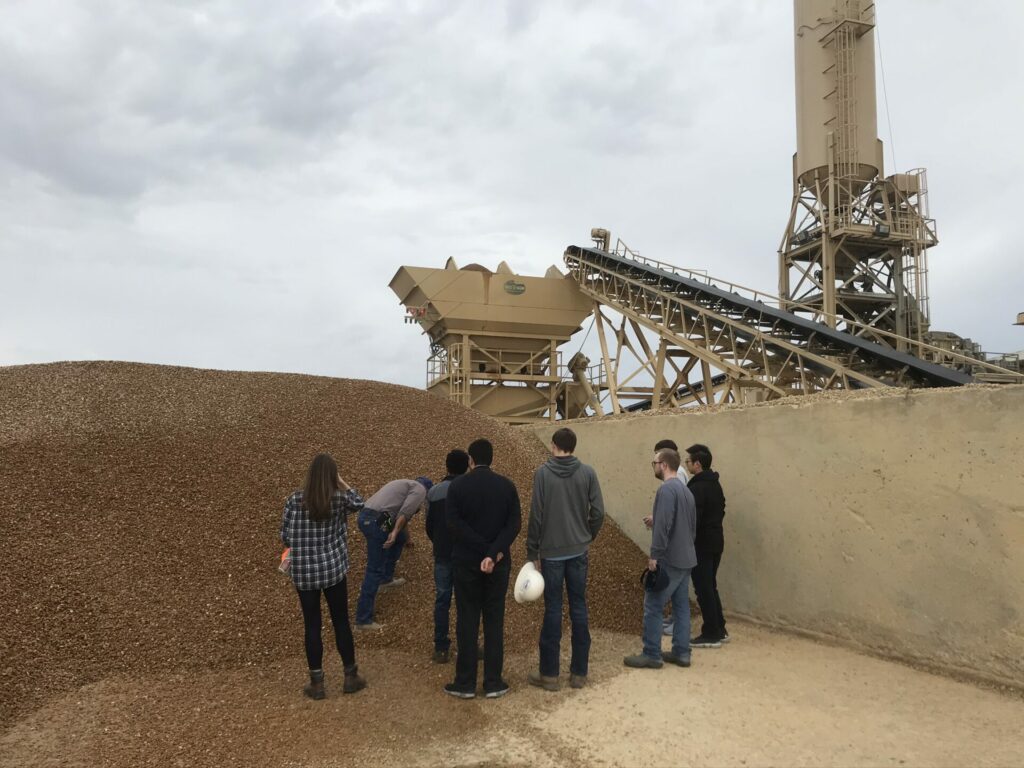 As a member of PCI Gulf South, JJ Ferguson is also involved in educational activities aimed at engineering, design, and architecture students. One example of its dedication to supporting future generations of precast experts is the plant tour organized in 2019 for a group of design students from the University of Mississippi. This dedication to education and professional growth doesn't stop with a commitment to the local community. The company also benefits from a close-knit staff. With several father and son teams, cousins and even two married couples, community is at the heart of everything JJ Ferguson does. Steen has, as you would expect, already involved her three children in the family business also. "I have two boys, one that is 19 and the other almost 21 and a daughter that's 22. So, my boys have worked here over the last two summers, starting from the bottom of the ladder. The first summer, both boys worked on the line in the prestress yard… the real hard work. The next summer, Eli (19) worked on a road crew, while Tristan was learning to run the concrete plant. Sara Beth will occasionally help us out in the office too." While she is working hard to keep the company thriving, Steen also thinks about the future, and at the right time, she wouldn't mind handing the reins over to her children. "I'm certainly hoping that they step up, and I can hand over the keys and sit back and watch them grow the company," she concludes. 
Steen's bravery and commitment to stepping up for her children and employees has not gone unnoticed. The company has experienced turbulence and challenges along the way and is in a very healthy position due to strong leadership and a commitment to hard work. By the same token, the team at JJ Ferguson is equally committed to supporting her and contributing to the company's ongoing success. As the saying goes, the apple doesn't fall far from the tree. With that in mind, there is little doubt that the Steen family will proudly continue JJ Ferguson's 82-year-old legacy for a long time to come.