Every stage of the construction process has its place and its value. From foundation upwards, a building is only as strong as its weakest part. However, one area in particular can do some heavy lifting. The exterior and shell of a building works on both a protective and cosmetic level. With its core function as a shelter from the elements, it is a vital cog in the overall project. With this in mind, JGR Construction Inc., a premier structural and concrete contractor based in Florida, has a big job on its hands. Described as a "shell contractor" by Antonio Obregon, Co-president of JGR Construction alongside Javier Gonzalez, the company will build the shell of a property, carrying out its concrete and masonry construction. In an industry where speed and value can be prioritized about quality, JGR Construction Inc. is very much an outlier.
Founded in 2009, the company provides a range of services to customers including pouring footings, installing masonry, and constructing complete concrete shells. What truly sets the company apart from its competitors is its three core values which permeate every aspect of the work it does. According to Obregon, this allows the company to focus on its job of "building great builders."
Most companies will talk of core values; they are an intrinsic and commonplace part of business. Many of these, however, are aspirational in nature and can sometimes be at odds with the day-to-day workings of a company. With JGR Construction, things are different. Its three core values: We are one, Driven to excellence, and being Relentless in terms of everything it does, have developed and grown as a reflection of how it has been successful. For example, according to Obregon, "the team work tirelessly every day, focusing on getting the work done and maintaining good relationships with each other, partners, suppliers, and clients. The 'relentlessness' of the team is a constant, ongoing pursuit." By doing things the right way, the company has been in a position to take a step back and design core values that reflect real world processes and attitudes. Rather than aiming for something, JGR Construction Inc. has values that it lives by every single day.
Going against standardized norms is something of a habit at JGR Construction Inc. As Obregon explains, the team has a deep sense of partnership, with everyone working towards a common goal. This creates a sense of fun and camaraderie that is hard to match. Bonding activities, so often the structured, laborious, management technique occur in an open and organic way. As Obregon shares, "the team simply do things that they want to do in order to share time with each other. As a result, these become bonding activities." With strong working bonds in place, the company is always in a healthy position when faced with the daily challenges of such a fast-paced and intense industry. "The team is united and optimistic. Everyone is excited about the company's growth. At JGR Construction Inc. we have a very empowering culture. Everyone lifts their colleagues up and speak highly of their teammates' dedication, innovation, and work ethics. As our core values state, 'We are one' and we recognize each other's hard work."
For any company that hopes to achieve success and longevity in the construction world, following JGR Construction Inc.'s lead would be a good idea. This spirit of solidarity is exemplified by the "very strong" worker retention rate the company enjoys. By way of example, Obregon explains how "just a couple of weeks ago we celebrated an anniversary for the employees that have been with us for longer than five [or] ten years." He goes on to share that that the longest tenure of an employee working at the company is an incredible 17 years. With this rich experience in-house, it is easy to see why the company is growing steadily and taking on new staff "every six months."
"The team is united and optimistic. Everyone is excited about the company's growth."
A strong employee retention rate can only be maintained when staff are encouraged to reach their potential. With this in mind, JGR Construction Inc. runs a recruitment and management training program. This program, which has nurtured the skills of a number of current employees, allows workers to get a taste of everything. "We have a recruitment and management training program. Our students go through 18-to-24-months training where they experience every facet of the business." By doing this, Obregon believes that this ensures staff can follow a career path with the highest opportunity for success. "The program allows people to specialize in whatever area is of most interest to them and is the best match in terms of their own skills. Our Vice President of Operations and Pre-Construction Manager have both come through the program, for example."
As he explains, students begin this process in the area of estimating and, along the way, they are exposed to a diverse training experience that includes pre-construction, project management and field work. The experience of working in the field gives the students real-world knowledge and skills from the outset with safety and quality control also being important components of the program. Obregon feels that the program is a much-needed contribution of the industry in general. "Through this program we foster young professionals. Our focus is on building great builders and is one of the things we are most proud of. Both the young, and more experienced, professionals that come into the company can see the career opportunities at JGR. We really are focused on developing their careers in conjunction with the work that they do for us."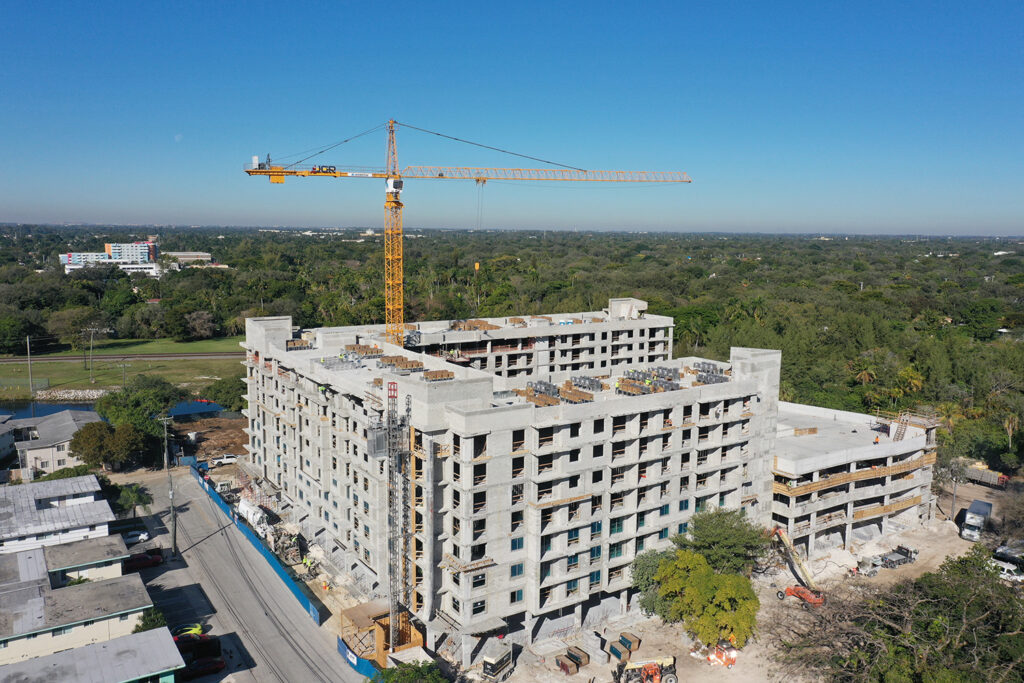 This success has inevitably led to JGR Construction working on some standout projects in recent years, including the Kavista Apartments project in Miami. Located in the historic neighborhood of El Portal, the project is a mid-rise apartment building comprising of eight stories, a total of 282 units, and over 300 parking spaces. For this project, JGR Construction Inc. provided 401,800 square feet of concrete and masonry for the ANF Group and gave all involved the opportunity to provide much-needed affordable housing to the area.
Other standout projects completed by the company recently were Wynwood Haus and the Miami Riverwalk. Wynwood Haus, a twenty-story residential tower located in Miami's creative and cultural hub in Wynwood is a multi-family development consisting of 224 units with "over 5,000 square feet of ground-floor retail and world-class rooftop amenities." JGR Construction provided an incredible 322,530 square feet of concrete and masonry for Beauchamp Construction. On the Miami Riverwalk Phase 2 development, JGR Construction Inc. provided 528,500 square feet of concrete and masonry for the Kaufman Lynn led project, an eight-story luxury apartment building with over 400 ft of unobstructed views of the Miami River.
Moving forward, the company has plans for big growth. As Obregon explains, the local population is growing at such a rate that opportunities in the area are abundant. For him, this gives JGR Construction Inc. the chance to use those core values and move with the needs of the community. "We have some proprietary goals and 10-year plans that are adventurous in nature. We plan to expand to different markets and different product lines also. Even though there is some turmoil across the economy, we are very optimistic. For the most part, however, we're very bullish in South Florida. We think the population growth in Florida as a whole, specifically South Florida, is very high and we don't see residential construction and multifamily in particular stopping anytime soon."