The lumber industry is well known for its many virtues. Hard work, commitment and honesty being just a few. These are foundations that speak to the rich history and reputation those working in the sector have crafted and cultivated over generations and are greatly appreciated by businesses and clients alike. It is fair to also say, however, that certain other beliefs are held about the industry. It can be seen as ingenuous and traditional and even, in some quarters, unsophisticated. However, it's rare for these views to be held by anyone with any real knowledge of the industry. Simply put, they carry no merit and, when looking at the true innovation, skill and expertise on offer by those working in the lumber trade, it can be difficult to see where such inaccuracies emerge from. Thankfully, there are many examples of this forward-thinking attitude throughout the industry, and Wilson Lumber is a prime example.
Wilson Lumber is a third-generation business, operating since 1949. The company, operating out of five plants in Alabama and Tennessee, is an expert in its field, offering full-service building materials including lumber and plywood right through to doors and window trim. According to Josh Hendrickson, Director of Sales, providing these products and services could be construed as similar to most other lumber yards, yet for Wilson Lumber, their aim is to go much further than that. "People do it every day. There are thousands of us across the country. What makes Wilson lumber different however, is that we provide solutions to our customers. We are very vertically integrated. We manufacture about two thirds of the products that we sell, and because of that it gives us an enormous amount of flexibility. It gives us the ability to help our clients keep and hold their schedule. We can help them build faster. We don't just sell them products, we provide solutions."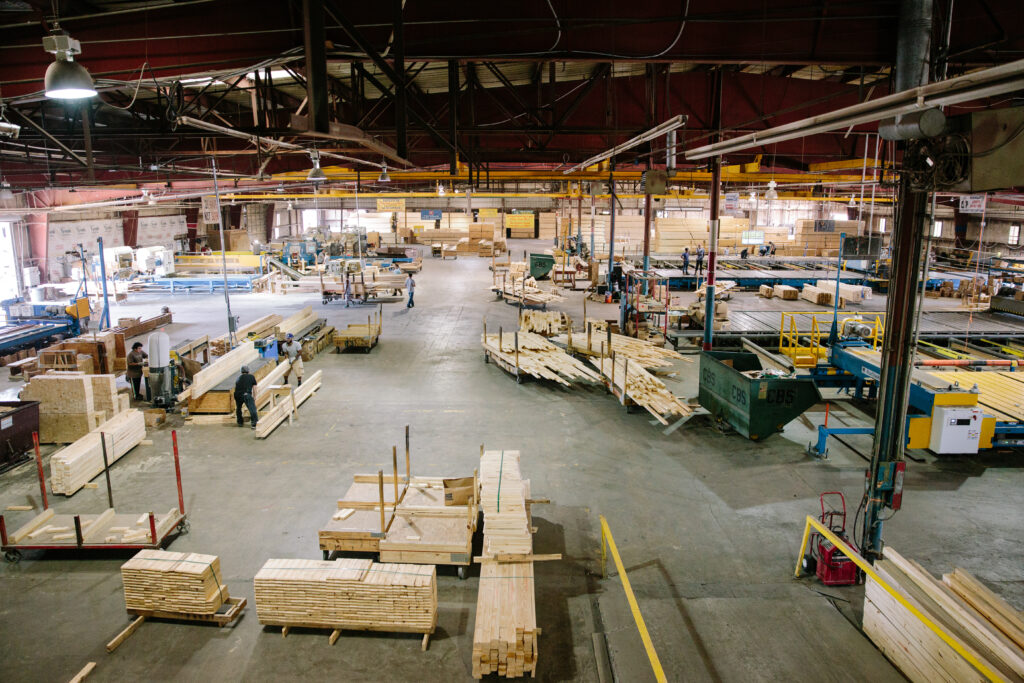 These solutions are a vital component of the work that is being done at this company. With proactive communication, community commitment and market leadership, Wilson Lumber is leading the pack when it comes to providing a safe and informed experience for the clients. "We stay in front of the customers, and we let them know what's going on in the marketplace. We let them know, especially right now, if there are supply shortages or if there are price increases." These may seem like insignificant details for other companies, but for Wilson Lumber they are an essential service. For Hendrickson, the value of this relationship cannot be quantified. "When customers do business with us, they know that it is more than just doing business with any other building material supplier. They can see that we care about our employees, and we care about the community; not just local either, regional and global too." According to Hendrickson, these relationships are solidified by a combination of excellent communication and an unparalleled level of expertise. "For every product category that we sell we have somebody on that team that's not just really good at it, they are a full-blown expert. I would back them against anybody in the industry, and so when you package all those things up, it puts the builder in an incredibly good position compared to our competitors. They know when they do business with us, they are going to get an expert, they are going to get a huge variety of products, and they are going to get excellent communication."
When Hendrickson speaks about communication and expertise, these are not platitudes. It is sometimes far too easy for companies to make claims and promises with little or no evidence to back it up. This is where Wilson Lumber deviates from its competitors. The company puts great stock into the data it collects around delivery, both time and accuracy. According to Hendrickson, success is not marked by an order simply being made. Instead, he identifies the delivery of products as the point that the company should be studying. Has it delivered on-time? Is everything there? These are the questions Wilson Lumber asks itself. Unsurprisingly, the answers are hugely positive. "We are very sophisticated in the way we track on-time and in-full deliveries. Because of this we know what percentage of our deliveries had 100% of the product, were any deliveries missing something, and what percentage of our deliveries showed up exactly when we said. If we show up one minute later, or we show up three hours early, that's not on time. And we're really, really good at it. We're market leaders in that regard. We routinely fall in the highest category where 94% or 95% of the time we deliver everything our clients need, on time. That is wildly important for customers right now."
"For every product category that we sell we have somebody on that team that's not just really good at it, they are a full-blown expert."
Recently named a Best Workplace by the Best Workplaces Institute, it is safe to say that Wilson Lumber is a positive place to work. The adherence to positive communication and respect is clearly something that permeates every aspect of the business. When asked about this, Robb Wilson, President, is noticeably proud of the community that has formed within the business. He puts this down to two very distinct, but essential aspects of the company mission.
"One reason for our success is an adherence to our core values. Probably, the most important one of those is to treat others the way you want to be treated. What we mean by that is to demonstrate kindness, to be respectful, and also to be understanding toward others. I think that describes the culture of kindness and respect and understanding we try to instill. The other thing is to have a passion and a hunger for the business. If we didn't stay hungry, then we wouldn't grow. We desire growth and that could be revenue, but it could also be personal growth for our employees or ourselves. That is what keeps us turning forward."
With plans for continued growth and the opening of additional locations in the future, it can be difficult to retain what led you to that success. Wilson Lumber has been building steadily for three generations, yet the company is still an industry leader in terms of its ethos and its innovation.
This is not a company happy to rest on its laurels. In fact, strategizing continually takes place to identify potential growth markets and locations. According to Hendrickson, the expectation is that the company will double in size over the coming three years. Clearly, this is an adventurous aim, but it is not one the team at Wilson Lumber are afraid of. When asked how they will manage this huge task, Wilson is clear and genuine in his assumption. The company will continue to do what it does best. "There is a reason why people continue to come back to us. It is because their parents did business with us, and their parents did business with us because we treated them the right way. We understood their concerns and we understood what kept them up at night. We put time and energy into solving those problems, because we knew it was important to them. Customers expect and trust that we are going to do the right thing. We are going to make sure it's right by them and right by us. We really do see customer relationships as a partnership. We want them to succeed. Always do the right thing is probably the overarching theme of all that we do."