There is no one path to success. Leveraging labor advantages, strategically deploying capital, or just simply hiring the best can get a company there. One or more of these practices might see your company thrive for five, ten, twenty years. Then there is the kind of success that lasts for a century. There may be only one surefire way to build a company that has the sort of multi-generation staying power that most can only dream of – the art of staying ahead of the competition. Nestled amidst rolling hills in the southwest corner of Pennsylvania, Stone & Company has parlayed this strategy to grow into, not only the region's foremost concrete and builder's supply outfit, but one of its most successful companies, period.
Initially suppliers of lumber and coal, C.M. Stone took sole proprietorship of the company in the 1930's with his son Wendell joining him at the helm a few years later. After serving his country in World War Two, Wendell returned home to Pennsylvania and went out on a limb. He built the company's first concrete plant in Connellsville, employing the strategy that would ensure Stone & Company's long-term success and finds them operating an array of different plants at seventeen locations today. While that initial plant built seventy years ago is still in operation, it is their continued determination to embrace innovation within the industry that allows for continuous growth all these years later.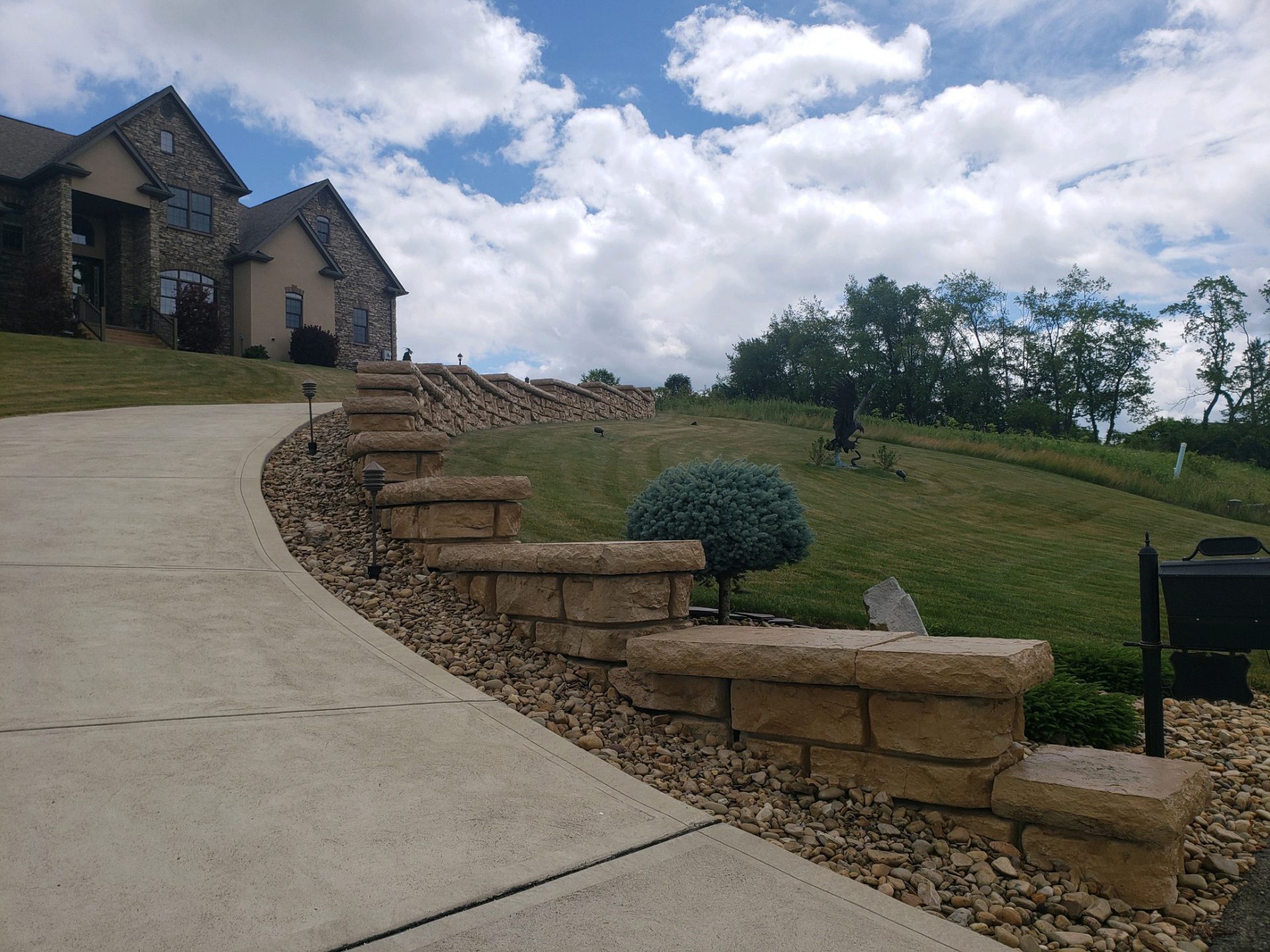 Stone & Company opened their precast concrete division in 1995. Current Manager John Schultz came aboard the following year, starting as a welder and working his way up the hierarchy. He assumed his current mantel ten years ago. Schultz recounted, "Initially we focused on catch basins and manholes for developments. That was the housing boom. That was our main focus in the beginning." Illustrating the company's keen eye for spotting which way the industry winds are blowing Stone & Company engaged early on with Redi-Rock retaining wall technology. Schultz continued, "We got into Redi-Rock in 2004, pretty close to their inception, they might have been in business maybe a year or two prior to us getting into it. It might have been, at most, ten percent of our revenue coming in for many years, and now it's well over fifty percent of our revenue. It's a really expanding market. We diversified more into ready rock as the housing market shrank with development in the area. We've diversified into ready rock in order to keep growing." Getting in early was the key component. Locking down their local counties as the proprietary Redi-Rock supplier enabled Stone & Company to effectively build a moat around their precast division. As the demand for Redi-Rock products has grown over the years, this instinct to be an industry first-mover has paid huge dividends.
Never willing to stand on their laurels, Stone & Company continually push to expand their services and offers. Having gained state approval four years ago, the company is now attempting to achieve a similar objective with PennDOT, which would allow the company to self-certify and stock PennDOT approved materials. Shultz said, "The process is that they have to have a job spec for it. We have to make the block after we get the order for the block. And tag that block for that specific job." Instead of having put out an order for a block for each specific situation they can just use their own self-certified stock and immediately address the client's needs. Shultz added, "These are excellent for emergency repair situations and Pennsylvania has identified that. They are trying to get us through the self-certification process so we can have some yard stock and better serve them." This desire to improve the efficiency of the process typifies the thinking that has brought them such success.
"As the demand for Redi-Rock products has grown over the years, this instinct to be an industry first-mover has paid huge dividends."
The willingness to embrace the cutting edge of the industry confers multi-faceted benefits. New markets occasionally emerge and being able to answer the needs that arise along with them is a massive boost. The fracking boom of the last fifteen years in Western Pennsylvania has required massive amounts of construction service solutions. Seemingly overnight, an entire new industry moved right into Stone & Company's backyard and as a result of their foresight they were able to step up and meet much of the new industry's demand. Schultz said, "When fracking took off in Western Pennsylvania, it really sparked a lot of lot of growth opportunities for Redi-Rock, building walls into the entrances of these fracking areas. Usually, they're cutting through. We have cutting roadways and those roadways need support. That was a big boom in our area along with some compressor stations. We did quite a few of those one, one very large one was about twelve thousand units."
The diversity of products they have come to offer in precast and the range of expertise they can provide affords Stone & Company the flexibility to answer the call of a wide-array of jobs. The company is currently working on the stately Fayette County Courthouse, supplying them with five hundred concrete units. A local branch of Somerset Trust currently being built in Greensburg is another big project relying on Stone & Company for their precast solutions. This mix of municipal and private development projects combined with the aforementioned fracking jobs and emergency repair materials provide a robust platform for the company to continue to grow and scale.
Of course, constantly being at the tip of the spear comes with an element of risk. There are potential pitfalls awaiting early adopters of new technologies and modalities. Just because something is new doesn't mean it is immediately better. There can be difficult decision to be made; when is early too early? Schultz said, "It's always a question. They're always introducing new product. They introduced the new XL line, which is a much larger block. We jumped on board pretty early last year. The forms are very expensive. They're four to five times as much as the normal form." But, the benefits of being right on time are significant. Shultz continued, "If I know it's a winner, I jump on right away. They introduced the ledgestone face and they had a smaller product that I knew I really liked. The salesman mentioned that they're going to introduce this in our larger block. And, you know, I told him, as soon as it comes out, I'm purchasing fifteen new liners for the space because I knew it was going to be very popular. It's by far our most popular face now. It's always a decision on when to jump on."
Another challenge with being at the forefront is the simple matter of communicating to clients the nature of new product solutions. Getting engineers on board requires considerable time and effort and this has to be built into considerations. There is a lag time before uptake of a new product reaches critical mass and becomes commonplace. The Redi-Rock gravity walls are one such example. According to Schultz, "The big thing with Redi-Rock is we can do a much taller gravity wall as opposed to the competition. And not only a nicer, aesthetically pleasing wall, but in the end is something that's cost savings when you hit that six-to-twelve-foot range. And with these new XL blocks, we can even go taller." Once again, the choice to go first has paid itself back many times over. Schultz added, "In Western Pennsylvania in particular, it was a home run for us. We knew we wanted to get into to it from the start because of the rolling hills of our area. We have some really poor soil conditions that deal with a lot of clay. And to be able to offer a bigger block to do these gravity walls was a big advantage for us."
One hundred years ago, it was coal and lumber. Seventy-five years ago, it was the first concrete plant. Multiple locations and manufacturing capabilities followed. Eventually the Redi-Rock innovations came. What has always been there is the willingness to have one hand constantly on the state of the art. Schultz summarizes it neatly, "Our owners are great. Any idea that I think is a potential growth area they almost always back me. They are always asking me what do you think? What do you think we can get into?" Nothing in business is guaranteed but maintaining success over the course of a century requires significant forethought. Sometimes you have to break the mold to continue to grow.