While Highbury Concrete (founded 2013) could be considered a relatively young company it is far from being rookie. In fact, quite the opposite is true. With a wealth of experience on-board, the company has a rich background to rely on when it comes to all things concrete. Highbury is made up of self-described 'career professionals' combining their expertise to provide an elevated service to Highbury's clients. As Daniel Oswald, Health and Safety Manager at Highbury explains, this culture of building employees up from within the company is a core feature. It generates loyalty and trust in the business with Oswald himself starting out as a laborer before working up to the role of Safety Foreman and then to become Health & Safety Manager, over the course of just six or seven years.
This example lies at the core of Highbury Concrete, a company with education and training being central to its ethos. Highbury values providing new opportunities for its employees, especially upskilling them, which generates the career professionals that Highbury takes immense pride in employing. Highbury even has programs to upskill and ensure the safety of inexperienced workers. This initiative, called the 'white vest program' restricts workers from certain tasks until they can be guaranteed to do safely and correctly. Safety is paramount to Highbury and having a fully and properly trained team is just one of a wealth of safety measures. Another new program Highbury has introduced to maintain its workers' safety is the optional 'Red Wing' boots program. Highbury has pre-approved boots selected for its construction sites that workers can pay for discounted boots by payroll deduction over the course of two to eight weeks. This ensures that Highbury workers are using boots that the company knows for certain will protect them from anything that could happen on a construction site, including penetration hazards or slippery terrain. The Highbury approved Red Wing boots are also waterproof, with a safety-toe, and electrical hazard resistant.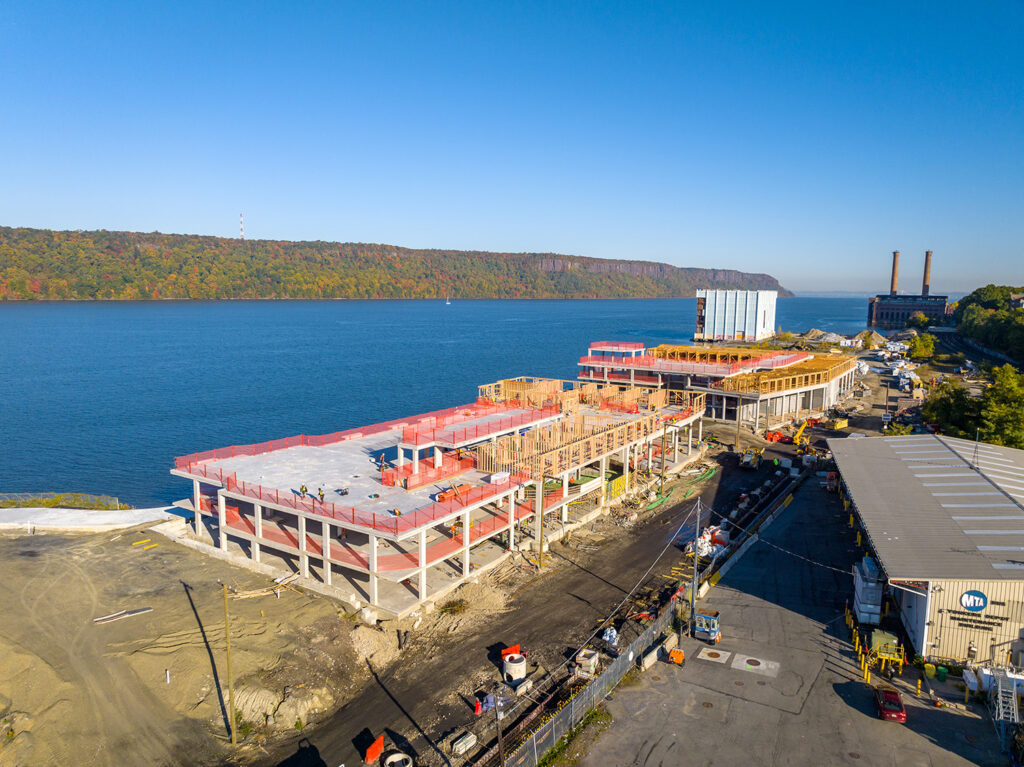 The company has experienced ongoing success, as evidenced by the numerous projects taking place around the country. For example, on the Upper West Side at 4650 Broadway, NYC, Highbury is working on a 272-unit building that totals 440,000 square feet. 40,000 square feet of that is for commercial use and thirty percent of it is designated for affordable housing. While this project boasts an impressive twenty storeys, another of Highbury's projects is an enormous sixty-eight stories high. This building, in Long Island City, is 820 feet tall and over 1 million square feet. Incredibly, once completed it will be the tallest building in Long Island City. However, as Oswald explains, given that the previous record is also held by Highbury Concrete, the company is only competing with itself.
"On the Upper West Side at 4650 Broadway, NYC, Highbury is working on a 272-unit building that totals 440,000 square feet."
When the conversation around competition does arise, it is obviously a very nuanced subject. Highbury specializes mainly in superstructures rather than in foundations, so the nature of its competition is different to those typically found in the concrete sector. When Highbury expands into Florida though, Oswald does suggest that the company will be exploring more work in foundations as well as superstructures. Furthermore, about competing or bidding against other subcontractors for jobs, all Oswald says is that according to Highbury's estimators, there is more work out there than can be estimated.
In terms of the professional partners that Highbury collaborates with, Oswald is keen to point out that the relationships the company build are vitally important. For Highbury, their business partners carry huge importance as this is about upholding its brand image and being consistent. Relationships with the likes of general contractors are handled with utmost care so that outside parties can witness first-hand the meticulous and efficient way in which Highbury gets the job done. If every site that Highbury works on upholds the exact same safety standards and guarantees the same work ethic, then these kinds of professional relationships with repeat customers are forged naturally. For Oswald, this happens quite simply; by showing up, staying safe, and delivering on promises.
While success and relationships are valuable, for Highbury it is just as important to foster a sense of safety in its company culture. Oswald credits Darren Timmons, who is predominantly responsible for Healthy and Safety out 'on the field' while Oswald himself manages it more from an office setting. It is this balance and understanding between the two of them that contributes to the sense of safety across the board. On the field, Timmons can deal with the Concrete Safety Managers face to face, while from the office Oswald can access the reports that the Concrete Safety Managers submit from any given day. With this combination of safety data and safety precautions on site, the company adopts a streamlined and efficient network of communication that makes Highbury's team feel supported and informed.
This speaks to a significant core value of Highbury's that came up time and time again over the course of our interview, teamwork. It is evident that Highbury is inherently a collaborative company. With collaboration and relationships embedded in the company ethos, it benefits massively. Not only this, but it is also a company that invests in training to just a large scale because it trusts its staff to be able to upskill and constantly improve. When I asked Oswald about how much Highbury values its staff, he cited this Richard Branson quote 'Train your employees well enough so they can leave. Treat them well enough so they don't want to.'
Finally, regarding what the future holds for Highbury, Oswald is less forthcoming. As all good business minds will attest to; aside from concrete itself, nothing is ever set in stone. Oswald simply believes that the future is bright for the company. "We've done forty buildings in the boroughs here, and we look forward to doing forty more." For Highbury, the goal is a modest one. "Being part of the skyline is what we do, and every building we do is a standing work of art." So, while expansion into Florida, and possibly even the East Coast, forms most Highbury's plans for the next ten years, it is clear that the buildings themselves will always be Highbury Concrete's true priority.