The world of concrete is, generally speaking, a simple one. This composite mixture, the second-most-used substance in the world after water, has been used in some form for thousands of years. While the construction industry may have advanced both technologically and logistically, concrete has remained largely untouched. The reason for this is that since its first known use –the floor of a hut in Israel, dated around 7000BC—it has performed consistently and excellently. That is not to say, however, that the handling, usage, and delivery of concrete cannot move forward with the times. Rising from previous incarnations of Kato Construction Equipment and ShotCrete Plus, CanCrete is a specialist in the Ontario concrete pumping sector. With a rich and successful history, the company is utilizing its knowledge and passion for servicing its clients to becoming the number one supplier of pumping equipment, parts, and associated repair.
For Eric and Marcia Duiker, the goal has always been a simple one; to offer solutions, partnerships, value, growth, and responsibility. Starting out a decade ago, the purpose of the company was also to offer local solutions to an otherwise disadvantaged community. As Eric puts it, the concrete industry in Ontario at the time was unable to source products and services locally. This meant that companies were being forced to endure unacceptable delays. "There was a need in the Ontario market to have some local products available. If you weren't purchasing products from ShotCrete Plus, you had to order it in from the west coast or somewhere in the United States. It was impossible to pick something up the same day." While the rationale for CanCrete therefore made perfect sense, the business model itself was somewhat niche. While this would understandably create challenges for the company, it led to a greater level of service to local clients. "At the time it was fairly niche, but there was also a very clear need for it. It goes without saying that if you can fix your truck immediately and use it tomorrow, it is much more advantageous than having to wait longer for parts."
Initially, CanCrete worked on small line equipment and aimed to build relationships with customers that used trailer and skid mounted pumps. However, the success of these relationships led to the company expanding to larger equipment over time. Today, the company is the leading provider of concrete pumping equipment in the region. As Eric explains, the dedication to building positive relationships and coming through for its customers ensured that CanCrete's growth was on an upward trajectory from Day One. "We have exceeded our growth targets and projections year over year. While we initially worked with smaller machinery, we started doing the mobile boom pumps and high-rise equipment for Ontario in 2017. In 2019 we expanded these product lines to Quebec and eastern Canada and then in 2022 this developed further to Manitoba in Western Canada." For Eric, these developments and growth has meant that the company has a gradually expanding geographical footprint.
From the outside, it might seem as though CanCrete is offering an identical service to any other sales company. However, this view belies the intricacy and knowledge required to truly understand the needs of its clients. Eric explains that it is only through a decade of experience with logistics and context in a variety of locations can the company truly meet the needs of its clients. "The way we describe it is that we provide services for anything that is more difficult than water. Anybody can pump water. It is when a mixture contains solids that they become difficult to handle. On the extreme end, pumping concrete is one of the most difficult and most abrasive products. That's really why our services are so niche. We have a wide range of products from diesel, gas and electric powered that come in every shape and size to accommodate any need our client might have."
"We provide services for anything that is more difficult than water."
With an ongoing commitment to providing the highest level of service to its clients, it is unsurprising that CanCrete goes even further. While other businesses in the region offer parts and servicing, CanCrete only provides the highest quality products which ensure that clients receive the absolute best. While Eric accepts that his company's refusal to stock entry level products can mean that some potential clients can be priced out of the running, he explains that the clients that want the highest level of performance are never left disappointed. "The products that we sell are on the premium end of the product line. The brands that you see on our website are guaranteed to be incredibly well designed and well-engineered. If a customer says that we are expensive, our reply is that yes, we are, but we are also the best and our product will pay for itself." According to Eric, this in turn leads to continuous working relationships and growth on both sides. "We are looking to partner with our customers. We wouldn't be profitable if they weren't also profitable. That mutually beneficial relationship is really important."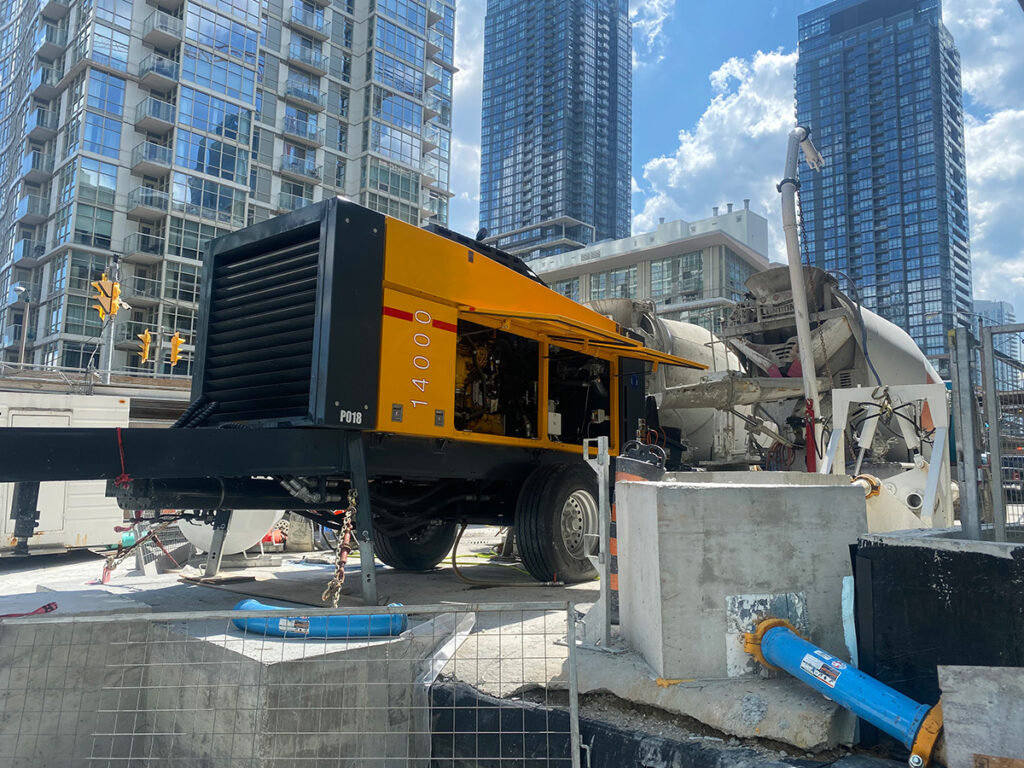 One product line in particular has provided excellence to clients in the region and has solidified CanCrete as the premium provider of concrete pumping equipment. As the sole and exclusive distributor of Putzmeister in Canada, CanCrete is in the enviable position of being able to offer its clients premium products that come with the added value of peace of mind. The rationale for this relationship was that it allowed the company to build on its knowledge base and pass this expertise on to its clients. "We were originally an end user of the [Putzmeister] product. It was the best and if it worked for us, it would obviously work for anybody else. So that was a big driver in developing this relationship but also it was important for clients to have that regional support. Having a local dealer was not actually a concept that the concrete pumping industry was overly familiar with at the time. In fact, a good chunk of North America still doesn't have a dealer network. However, in any area, machinery inevitably gets more complicated. Concrete pumps are the same. The electronics have advanced, and the trucks have advanced. Having a local dealer is really a business model that works. Importantly, these are products that, when you sell them, you can stand behind them and if a client is stuck, we can be with them the next day."
Celebrating its ten-year anniversary this year, CanCrete is well on its way to delivering on the ambitious goals it set out to achieve. Concrete may well be one of the oldest materials known to mankind. While the way is it used has certainly developed over time, some things simply do not change. As the saying goes, why change a winning formula? For Eric and those at CanCrete, the sentiment is similar. A decade in business and impressive growth along the way, the question of change doesn't even need to be asked. As for the future, unsurprisingly it is simple; more of the same. "Our success goes back to that mutually beneficial concept. What's good for our customers is good for us and having long lasting, repeat customers is really what we want to continue doing. We want to continue giving people the right products and continue to support them as best we can."