Changing directions and incorporating new product lines is nothing new in the construction industry, or any other for that matter. Businesses are at the mercy of trends and the shifting dynamics of markets, thus ensuring that occasionally, the road is already laid out for a company if it wants to remain successful. Large scale changes to products and services can, however, leave a company in the difficult situation of maintaining a brand identity and navigating relationships with clients that go back generations. In instances such as these, innovative thinking is required and fortunately for S3 Precast, they have this in abundance.
Tanks-A-Lot is a provider of quality concrete tanks, catch basins and precast fencing across Alberta and British Columbia and has been in existence almost forty years. The company has built up a highly regarded reputation as experienced and skilled water and wastewater specialists, working mainly in the residential markets. Created alongside the Tanks-A-Lot brand is S3 Precast, which itself has been in operation since 2018. When it came to diversifying the product line, an in-house decision was made to launch the new entity. With a different logo, branding and title, this may seem like a completely new venture from the outside. However, internally it is anything but. Lenil Samuel, Business Development at S3 Precast and Tanks-A-Lot, explains; "S3 Precast was started in 2018 but it is part of a bigger company. It's more like a new division, with new products, but the company has been in place for a long time. The name reflects our core values of Service, Solutions and Sustainability."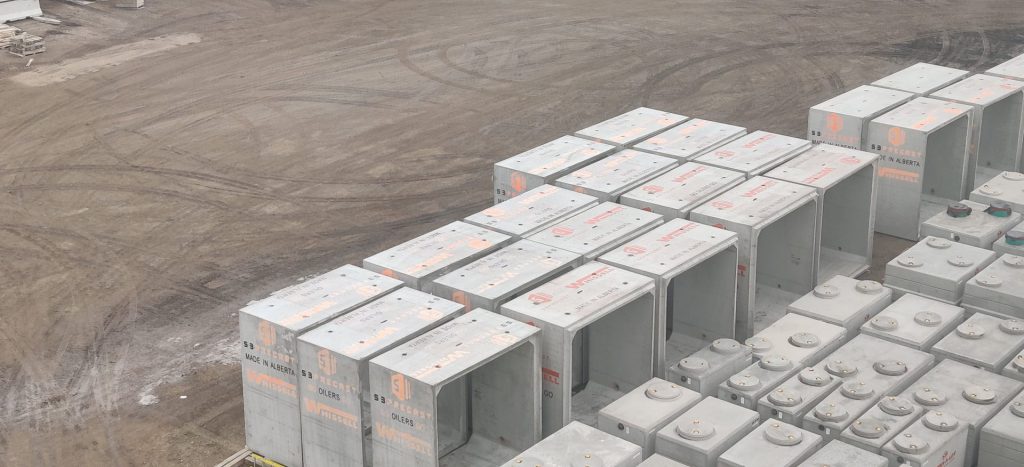 While the reason for launching the S3 Precast brand has its roots in the past, its sights are firmly fixed on the future. Different opportunities that were becoming available led to the decision to expand and grow with a 'new start' attitude. Lenil identifies a clear delineation between the two companies that is borne of necessity. "The companies operate in two separate markets. On the Tanks-A-Lot side of the business, the focus is mostly on residential work. We sell septic tanks, holding tanks, water cisterns. It is a different market with a different end consumer. S3 is going into completely different areas. Most of the end users are municipalities, cities, the government or commercial developers. That's why it made more sense to start a brand within a brand. It's completely different."
Despite the clear lines that separate the companies from a public vantage point, the inner workings of both S3 Precast and Tanks-A-Lot come from the same team of individuals and staff. The business is operated in a much more fluid and seamless manner, with geographical markets or product lines being as closely interlinked as departments within a company. Regardless of how the companies are perceived, internally, there is no division. "We operate the business as one. There is no separate branch or physical location for the two companies. We operate from the same plant, same office building. The ownership is the same." Unsurprisingly, this gives a wealth of benefits to S3 Precast, something which simply would not be available to a newer company. By sharing a production facility, both companies are strengthened by both scale and experience. In addition to this, the staff working in-house have the required skill-set to manufacture the full suite of products across the board. "Everything happens underneath the same umbrella and there are synergies in that aspect, where a lot of the overhead is shared between the two. With the production team that is actually making the product, again it's shared which is great as we don't need a separate crew for individual products. This allows us incredibly flexibility in responding to our customers' needs."
"As any company that is entering a new market will attest to, getting the first couple of years under your belt can be a challenging experience."
With an existing platform of skilled staff and contacts throughout the industry, the S3 Precast brand has flourished. The company, by diversifying the product line and growing into the municipal market, effectively doubled its addressable market. While having a successful business behind it, along with a knowledgeable and experienced workforce, the company still encountered what Lenil refers to as "growing pains". As any company that is entering a new market will attest to, getting the first couple of years under your belt can be a challenging experience. S3 Precast was no different. "I wouldn't say it was all smooth sailing from the get go. Even though we didn't have to start from scratch, in the sense that we had experienced personnel on board, we still faced challenges in setting up and eventually ramping up production. Mistakes were made, but you learn from them and incorporate changes as needed."
One pivotal aspect of this early development was the opening of a new 90,000 sq. ft. manufacturing facility based in Sherwood Park, AB. This state-of-the-art facility was developed to ensure the company could produce to an industry-leading standard all year round, regardless of the punishing winter climate. S3 Precast and Tanks-A-Lot have benefitted from a climate-controlled environment that gives the companies a much greater level of accuracy and sophistication. The expansion involved the installation of a new automated batch plan with preprogrammed inputs that ensures a consistent mix is obtained every time. The company also incorporated 'drycast' concrete production. Whereas traditional precast concrete production involves a relatively wet concrete mix, drycast production involves zero slump concrete. This method allows for improved quality and a faster throughput, allowing S3 Precast to meet project timelines on a moment's notice.
The company also recently obtained its Canadian Precast Concrete Quality Assurance (CPCQA) certification. This comprehensive, third-party administered and audited certification program is a testament to S3 Precast's commitment towards quality and directly reflects its focus towards sustainability. After all, quality ensures your products stand the test of time.
One beneficiary of this production overhaul is the Imagine Jasper Avenue project. The innovative and forward thinking project, to revitalize and rejuvenate downtown Edmonton is a high profile and, more importantly, vitally important piece of work for both S3 Precast and the people of the City in general. When discussing the value of being involved in a project such as this, Lenil is unequivocal in his view. "The intent of this project was to revitalize Jasper Avenue – the main street located in the heart of downtown Edmonton – to make the space more livable and pedestrian friendly. It was really incredible to be part of this project, considering obviously that we're a local producer located right here in Edmonton. It was good to be a part of this long term project for the city and to kind of leave our mark on it."
"We are not really limited by geography and there are a lot more precast products that we could supply to our customers."
In addition to being able to improve the city, the company was also able to showcase its innovative approach towards projects. "You can imagine, because the work is taking place downtown, it's all tight corners, tight streets, there's not a lot of room to move. The original design involved conveying stormwater using circular pipe from point A to point B. Our approach involved an alternate design whereby we were able to maintain the conveying capacity while reducing the overall length of the conduit. This innovative solution avoided crossing a major intersection, thereby eliminating further disruption to traffic and saving the project a lot of money – a reflection of our core value of providing solutions." Given that the S3 Precast brand has effectively grown from product diversification, it is interesting to consider the next destination for the company. In order to maintain the rapid growth that has seen it become a leading member of the precast industry in Alberta, Lenil and those at S3 Precast are aware that they cannot afford to rest easy. As economies around the world react to stimulus projects and the possible recovery from the pandemic, it is important to ensure that the path ahead is well planned for and achievable. For Lenil, the future is one of sustained development and growth. "I don't think we've kind of hit the peak of what we can achieve in terms of expanding, both geographically and in terms of our product line. We are not really limited by geography and there are a lot more precast products that we could supply to our customers." Given the success that has been made with the S3 Precast brand so far, you wouldn't doubt it for a second.